Kibworth Windmill update, Wednesday 8 December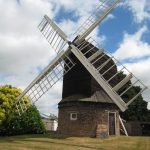 Our latest Kibworth Windmill Update for December.
Work has continued during November and the beginning of December. However, bad weather in the last couple of weeks has hampered work on the upper part of the mill.
The next major job is to fit a new roof, hopefully before Christmas. We are dismantling the old roof, and some repairs undertaken, prior to fitting the new one.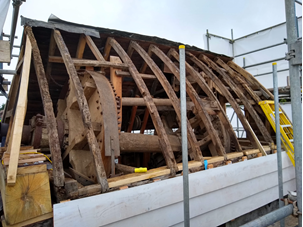 Over the last three months a number of visitors have been able to see the millwrights at work.
However, we have no further visits scheduled for this year. Unfortunately, it is unlikely that further visits will be possible until the millwrights have finished the contract.
---
Further Information
For more information on the Windmill & renovation also see the following:
Kibworth Windmill Update, 15th November 2021
The Writing may be On the Wall, 6th October 2021 (historic graffiti)
Video on historic graffiti at Kibworth Harcourt Post Mill
Archaeological Report Download
Kibworth Harcourt Windmill to be Restored to Former Glory, 7th June 2020
Kibworth Harcourt Windmill, Kibworth Village website
---
David Holmes