The writing may be on the wall
Buildings archaeologist James Wright of Triskele Heritage has recently completed an historic graffiti survey of Kibworth Harcourt Windmill. The work took place as part of a conservation project by the landowners – the Society for the Protection of Ancient Buildings. The mill is of special significance as it is the only post mill in Leicestershire.
James says that 'graffiti is a way into the world of the ordinary man and woman in the historic period. We're getting their lives represented through their own initials and dates and names. But also we're getting something of their hopes and their fears and desires because they're showing us that they're having anxieties about certain aspects of life – some of the graffiti is connected to ritual protection.'
Investigating graffiti markings
He has taken photographs of the many and various graffiti that embellish the mill and analysed them with very interesting conclusions:
One special piece of graffiti, that many visitors will have seen, is on the central pillar and the inscriptions says "Daniel Hutchinson Miller 1711" with its backward 'N'. Much of the mill building has been tree-ring dated to 1773, but Hutchinson's graffiti shows us that parts of the structure are older.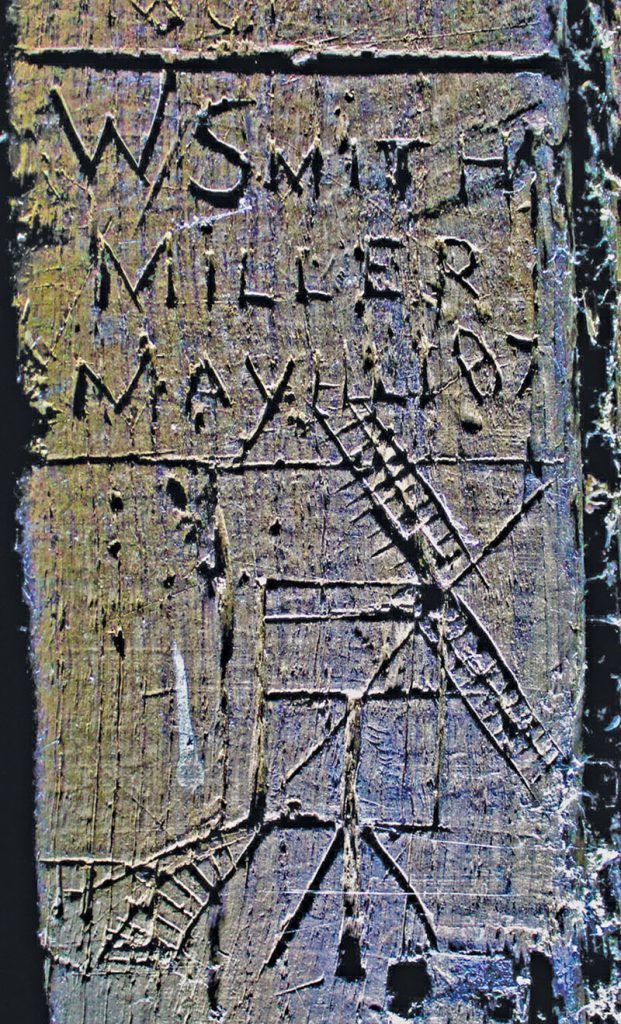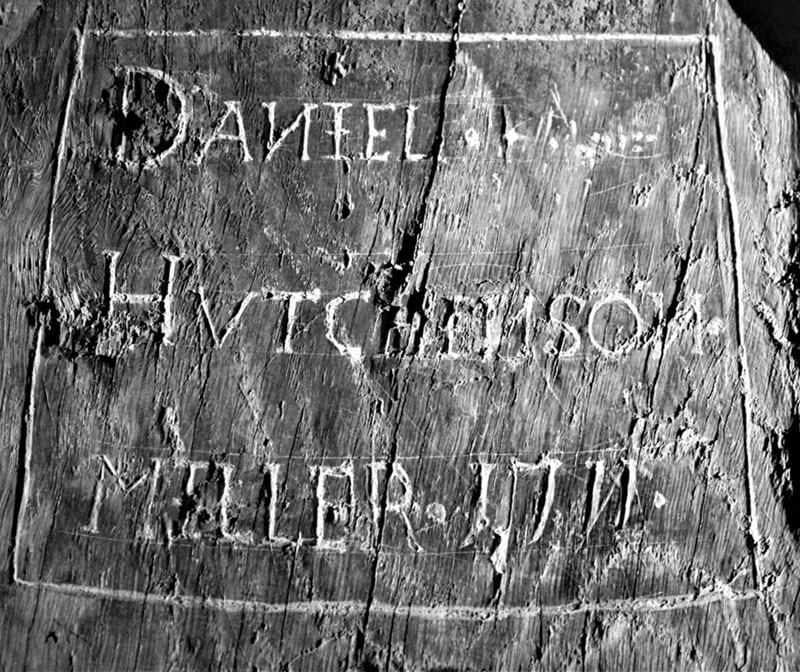 Recent graffiti markings – can you help?
It tells us of the later family of millers, the Smiths, who worked there. They certainly have left their marks – names dates and even sketches.
It also tells us some of the graffiti is apotropaic graffiti (which is intended to encourage good luck and ward away or drive away bad spirits – demons, witches etc)
After the mill stopped working (about 100 years ago) it was left derelict and people visited it leaving sometimes their calling card.  One such entry is for a V Gillott, who apparently lived at The Villas in 1936. Do any of our readers know who this person is? 
You can watch a short video of James Wright at work on the mill and download his archaeological report here: triskeleheritage.triskelepublishing.com/2021/05/25/kibworth-post-mill
The mill is currently being renovated by SPAB (Society for the Protection of Ancient Buildings) and cannot be visited, but when this work has been completed much of what James has researched will surely be available at the site. The mill is of special significance as it is the only post mill in South Leicestershire.
To arrange a visit
'The millwrights have agreed to allow local residents and mill enthusiasts to make occasional visits to see the work in progress. Visits will be on Wednesday mornings, normally at 11.00 for a maximum of 5 people. If you would like to visit on one of these occasions, please email David on david@holmeoak.co.uk to make arrangements.