Now is the time to advertise with the Kibworth & District Chronicle. Some 5,100 copies of the Kibworth & District Chronicle are hand distributed to the 29 villages in South Leicestershire.
So advertising with us is a fantastic way to contact your prospective customers. A printed publication is produced for ten months of the year, with the new relaunched website available all year round.
We produce a printed version from September through to June, and deadline dates can be seen on the Publications Dates page. We tend to get oversubscribed, so the earlier you book the better, as there is a limit to how many ads may be accommodated each month.
Advertising Options
We now offer advertisers a choice of options; size of advert and now Print and/or digital.
You can now decide whether you want your advert to appear in our traditional printed Chronicle AND appear online. Or whether you only want to pick one of the options.
Advertising will be prioritised to businesses within our distribution area.
We ask new advertisers to pay in advance for the first advert, thereafter payment is against invoice. For the first payment, please pay either:
(Preferred) by BACS or internet transfer
HSBC Bank
Sort Code 40-32-04
Account No 21042122
Or by cheque payable to The Kibworth and District Chronicle. please send cheques to The Kibworth Chronicle, c/o 1 Rectory Lane, Kibworth Beauchamp, LE8 0NW.
A 20% discount is offered if you pay for a full publishing year – 10 months (Sept – June) – in advance.
Advertisers with the Kibworth & District Chronicle who fall into arrears (i.e. 90 days) will be excluded and may be asked to pay in advance for future advertising.
We cannot include flyers or loose inserts.
Announcements of future local events may be better included in our 'Forthcoming Events' section and there is no charge.
Artwork sizes & Prices
| Size | Width | Depth | Printed or Online only | Print & Online |
| --- | --- | --- | --- | --- |
| Single | 82mm | 64mm | £25 | £35 |
| Double (portrait) | 82mm | 128mm | £50 | £65 |
| Double (landscape) | 164mm | 64mm | £50 | £65 |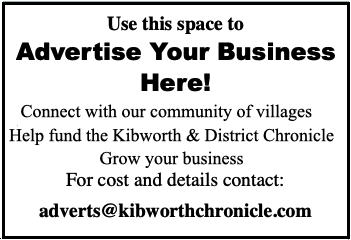 Please supply your adverts in an digital format. Files can either be .pdf or .png files. We can create adverts from your copy free of charge, but this is subject to available resource. We do not provide proofs.
Advert tips
If you planning to design your own advert, here are a couple of tips:
Less is more – don't crowd your space
Break up your telephone number, e.g. 0116 123 4567 or 07989 123 456
Avoid using thick bold fonts or a thick border
Be VERY clear what you want your prospective customer to do. Visit your website, Facebook page or email
---
Updated October 2020:
When you advertise with the Kibworth & District Chronicle, adverts for the printed Chronicle can now be supplied in full colour, and are positioned on pages at random in the printed Chronicle. For the website, you can supply the same advert.
---
Advertisers who provide artwork from other sources should have permission to use the artwork so provided.
Advertisers must provide written authority for the Chronicle to make changes to artwork provided by an agency.
IMPORTANT… Please note that our artwork is oversize by 25% before printing and is reduced to 60mm x 48mm so type should not be too small.
Your advertising contact is Mark Grech. Please email adverts@kibworthchronicle.com