Kibworth & Smeeton WI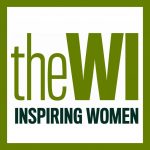 We were pleased to be able to hold our AGM in person once again this year at our November meeting.
Blood Bikes
The business part completed, Paul Bivens gave us an extremely interesting about Leicestershire and Rutland Blood Bikes.
They are one of 32 groups in the National Association. The group provides out of hours courier services for hospitals and other health organisations. They transport urgently needed blood, plasma, pathology samples and other medical requirements.
Hospitals have their own transport, but it is not available after 6pm on weekdays, after Friday lunchtime, or at weekends. But for the Blood Bikes, ambulances would be used, taking them away from their main purpose.
The group saves the NHS vast amounts of money which can be used for more nurses and equipment. Last year they had 1,680 calls in Leicestershire and Rutland just for blood and biopsies for transplants.
Milk Bank
They collect human milk expressed, frozen and donated by ladies in our region. It is then taken to the Midlands Milk Bank at Birmingham Women's Hospital to be given to premature babies. If it's not needed there, they take it to wherever it is needed.
They also support the Derbyshire, Leicestershire and Rutland Air Ambulance by taking urgently needed blood to the aircraft.
What is so remarkable and humbling about the Blood Bikers is that their service is run entirely by volunteers. They rely on their own fundraising, donations from the general public, generous private donations, corporate sponsorship and businesses.
During lockdowns, for example, they couldn't fundraise, so BP provided free fuel to keep them going. Hailed as 'invisible heroes' the group have received The Queen's Award for Voluntary Service. Our members were so impressed that they dug deep and donated just over £260 to this worthy cause.
Skittles
Later in the month our skittles team lost to Hallaton in the second round of the WI County competition. Despite losing they enjoyed a great game in an excellent venue at the Rose and Crown in Thurnby.
Xmas Yarn Bombing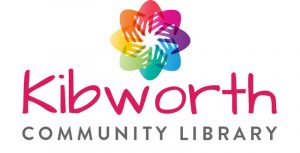 We all hope that our Christmas yarn bombing in the library garden has brought a little colour and magic to everyone. So far, it has defied the weather! We began working on it during last January's lockdown and have had great fun bringing it all together.
Late Night Xmas Event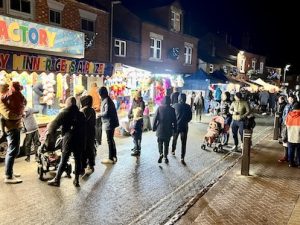 The Kibworth late night Christmas event drew large crowds thanks to the weather calming down.
Some committee members held a successful chocolate tombola in the village hall. Others served refreshments in the library to boost their funds and to thank them for hosting our yarn bombing.
---
For more on the activities of Kibworth & Smeeton WI, please also see:
---
Into Next Year
We will begin next year with 'Baroness Bolsover' showing us the etiquette of taking afternoon tea, on Thursday 13 January. Starting 7.30pm in the Grammar School Hall.
Meanwhile we would like to wish everyone a very Happy Christmas.
Pat Sharman