Editorial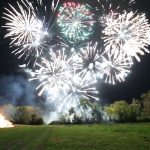 Well we have finally arrived at the last month of the year, December. The hours of sunlight are slowly ebbing to their minimum per day. Soon, hopefully, we shall be all celebrating the forthcoming festive season. After months of keeping ourselves from each other, we are, at last, starting to gather together. In groups to sing, to shop, to be entertained and to enjoy this new freedom.
Last month we saw, an opportunity for many villagers to came together to enjoy our village bonfire. As seen our front cover! We are sure many other villages had their own gatherings.
This was followed by the village folk turning out in numbers to witness the Remembrance Day parade and service.
Earlier this month Kibworth Village Late Night Shopping was a major success with hundreds turning out to enjoy the festive evening.
Let us hope this trend continues and we can all really look forward to a brighter, lighter healthier 2022. Remember this comes down to us all to have the jab, where it is offered. & to respect others by wearing suitable face coverings.
From everyone here connected to your local community newspaper Kibworth & District Chronicle, to all our readers wherever you are:
We wish you a happy festive season and a healthy New Year 2022.
S. Poyzer (Editorial Team)