Kibworth Creatives Youth Singing Groups
What a fabulous night for a debut performance!
At Kibworth Creatives Choir we have been busy practising for our very first public performance at the Kibworth Late Night Shopping event. What a terrific turnout!
Finally being able to perform on stage was amazing. It felt even more magical to think that a mere three months ago we had only just started on this musical journey together.
The children really stepped up to the challenge and, despite some first night nerves, sang beautifully and thoroughly enjoyed themselves! They stayed on stage to lead the audience in a community sing-a-long with a live band. Belting out Christmas hits by artists such as Slade, Wham and Wizard. We couldn't believe how many people came out to support us and sing along!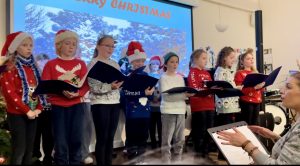 We are raising money for our Choir Scholarships to help families on Universal Credit fully. Or part fund their choir subs. As well as helping us buy some choir T-shirts for next year.
Thanks to the generosity of the Kibworth Community we raised enough money last night for a term's Choir Scholarship for one child! A massive thank you to everyone who has helped and supported us on our journey so far. The parents and carers of the children in the choir have been brilliant.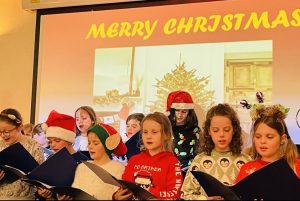 We will also have had the opportunity to perform for the notorious Kibworth Ladies Choir in their sell out concert on Sunday 12 December.
This will be our debut formal performance and, although we're a little nervous, we hope we bring the fun!
Join The Choir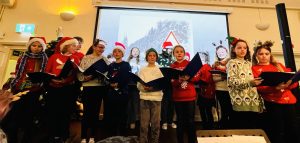 Kibworth Creatives Choir always welcome new voices no matter how much or how little experience they have.
The Choir is for 8-16 year old and rehearses every Thursday in the Grammar School Hall.
Spring sessions start on 6th January 2022 from 3.40-4.30pm.
Pre-booking is essential.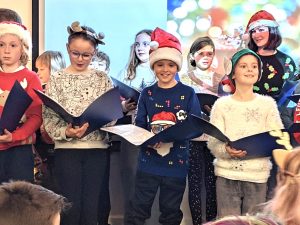 For more information about how to join, finance options or to donate to our Choir Scholarship, please email me: helencolins@hotmail.com
---
More on Kibworth Creatives, see:
---
Merry Christmas from the Kibworth Creatives Choir!
Helen Collins