Platinum Jubilee Gallery (Mowsley)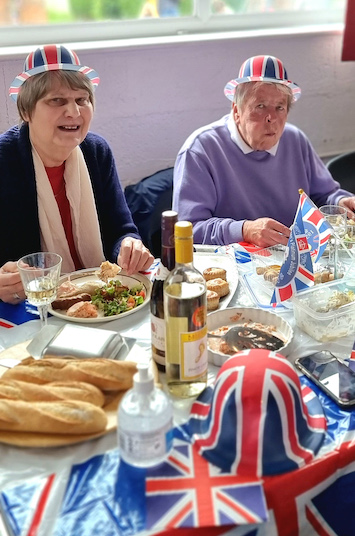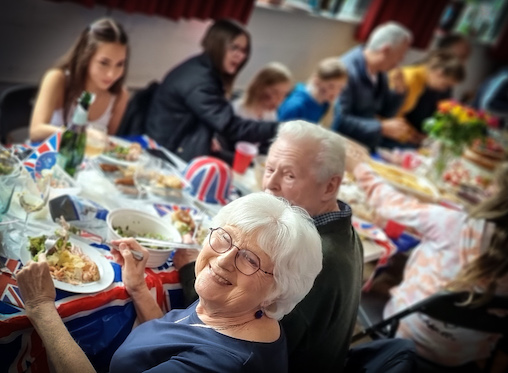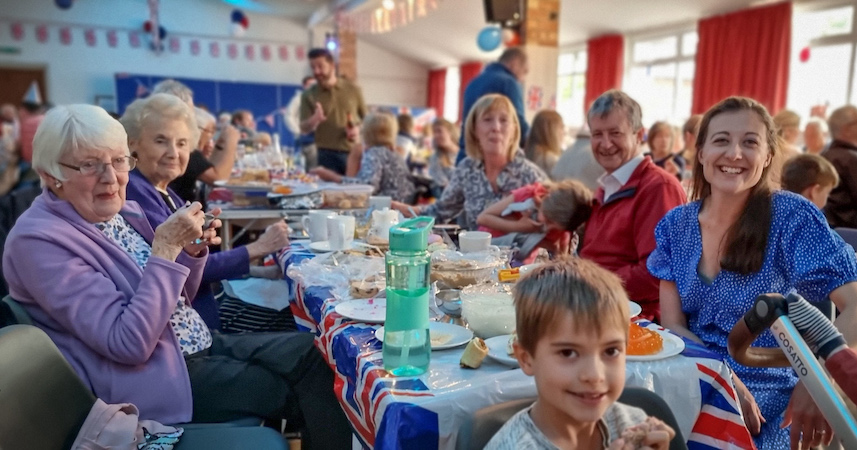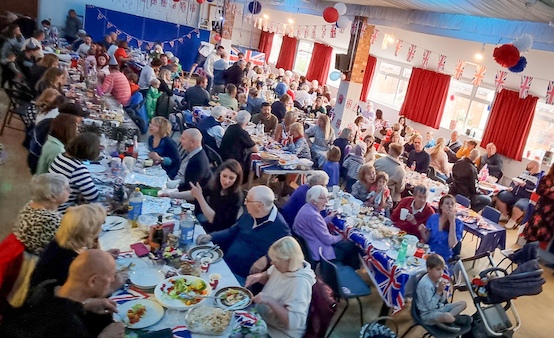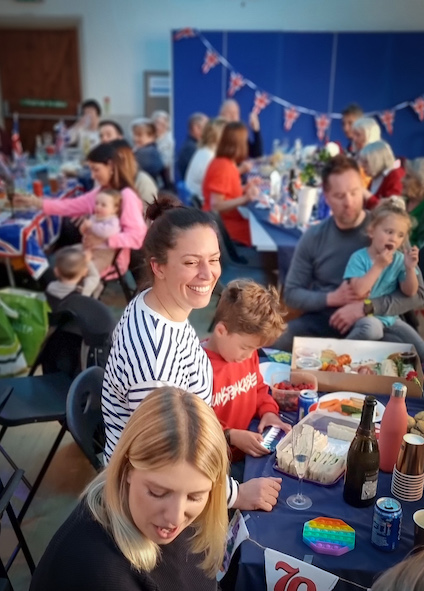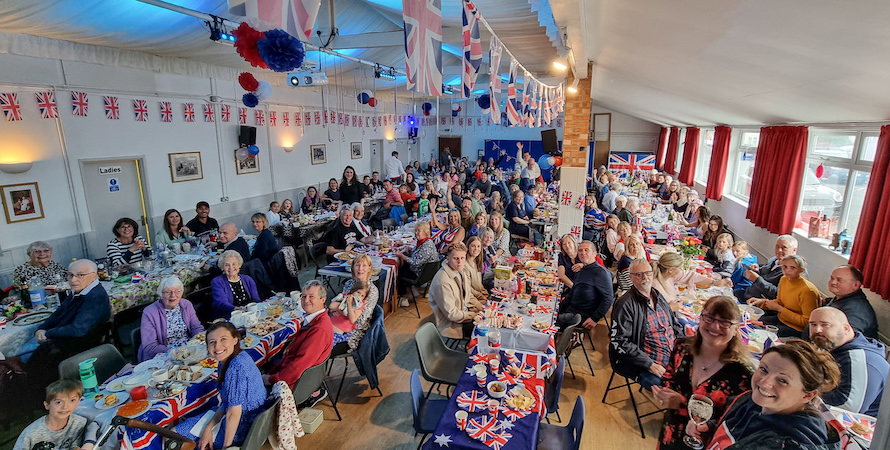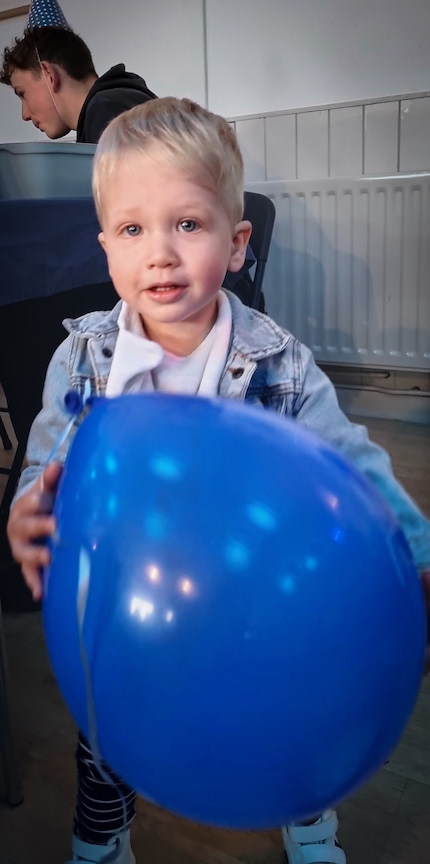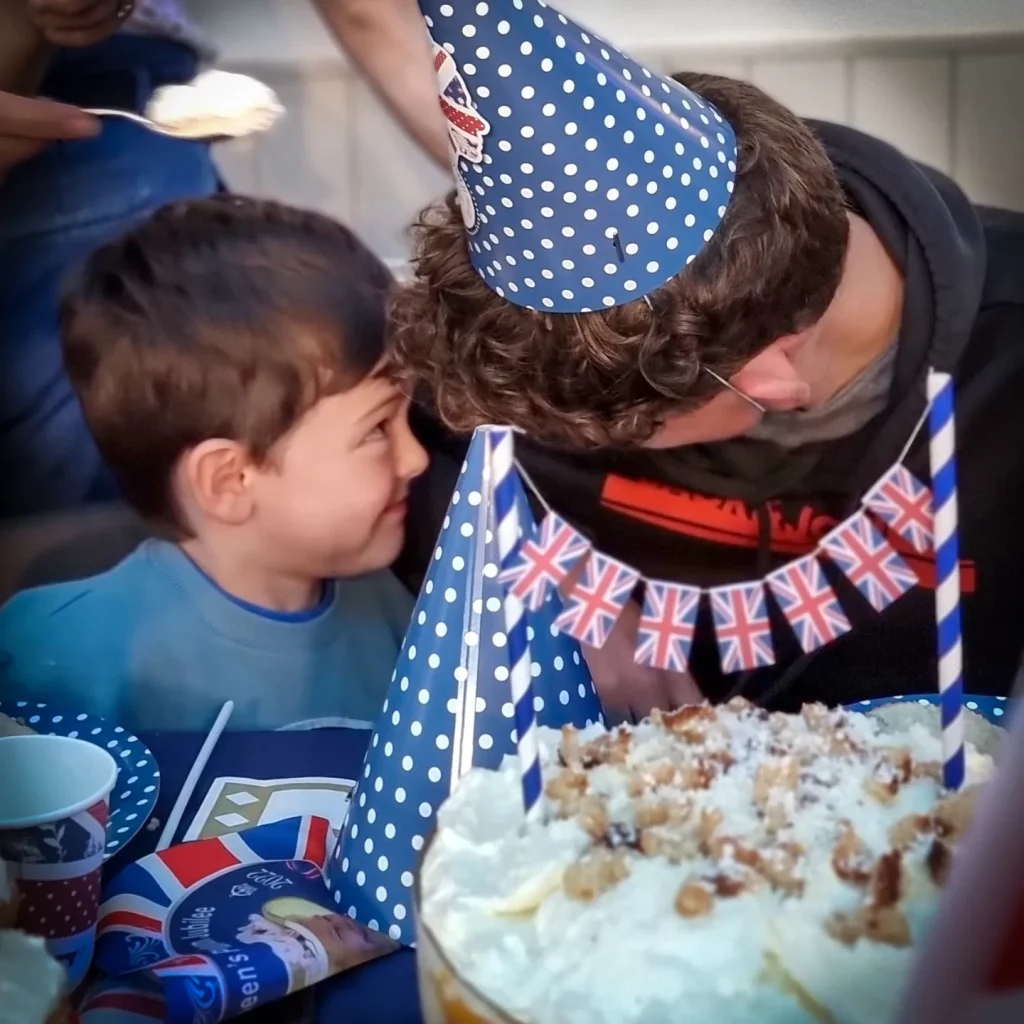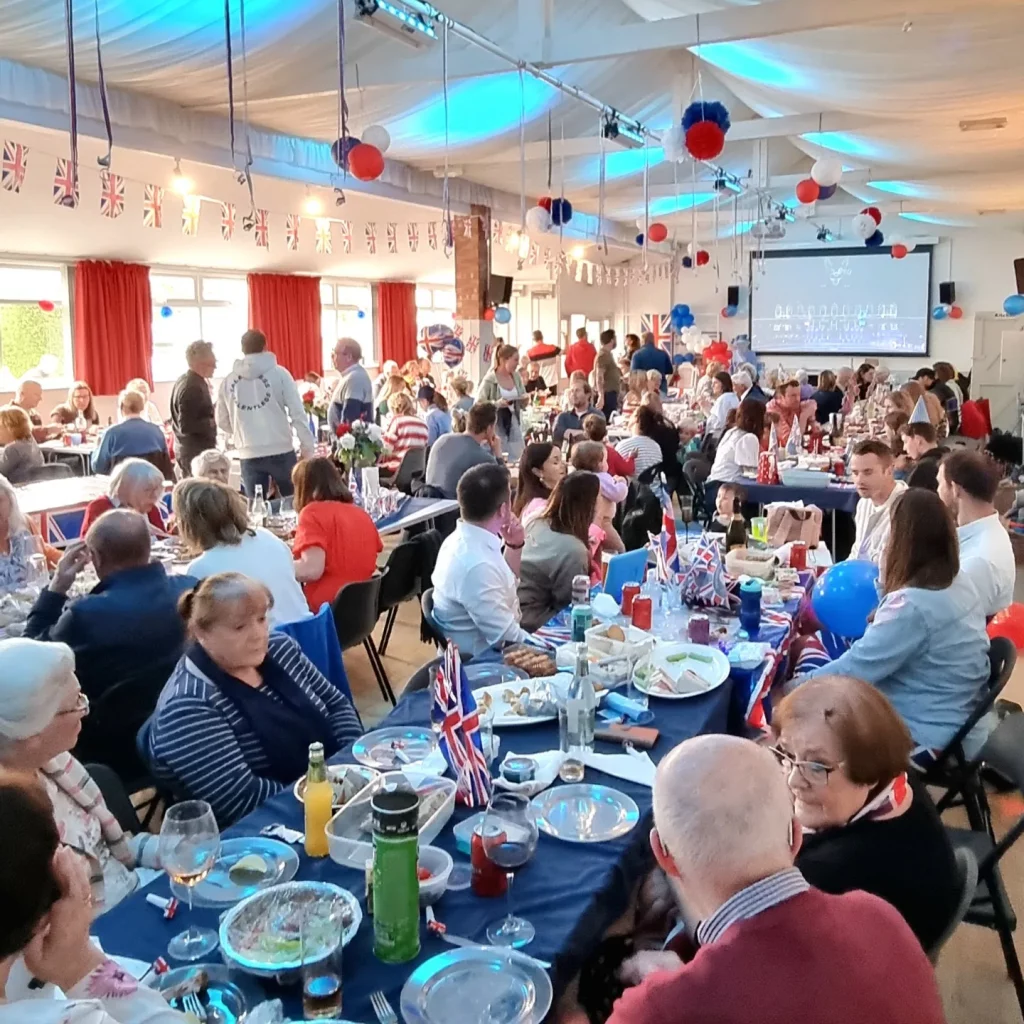 Mowsley Parish Celebrated the Platinum Jubilee
Mowsley Parishioners prepared for the Platinum Jubilee by making 300 metres of red, white and blue bunting to decorate the village hall and parts of Main Street.
The organisers also applied to Leicestershire County Council to close Main Street for part of the Jubilee Weekend.
Many other splendid decorations were also bought including a life size model of the Queen which proved very popular for selfies.
The Village Hall Committee was instrumental in organising the celebrations and encouraging villagers to come along and make bunting and attend the two arranged events: a barbecue and viewing on the big screen of The Party at the Palace; and a village picnic which because of the poor weather had to be held in the village hall. Some hardy souls braved the elements and as the road was closed, lit the barbecues for warmth.
Inside the picnics were astounding with a great many Coronation Chickens and Platinum Jubilee Trifles.
Picnickers were able to watch the Jubilee Pageant on the big screen. The latter installed just pre-Covid has so far been a great success.
There were activities for children including a Treasure Hunt. Mowsley youngsters will also be sending in drawings of the Queen which will be printed onto special memorial tea towels. They will also be receiving a Mowsley Platinum Jubilee mug.
Also held was a Bake off of Jubilee cakes with a category for children and adults. Look at the entries in the Platinum Jubilee photos online.
Our resident professional baker from 'Baked at Halcyon' was the judge.
A great time was had by all. Grateful thanks to the Mowsley Village Hall Committee and all the village helpers.
Check out the other Platinum Jubilee Galleries using the link below :-
St Wilfrids Church https://www.kibworthchronicle.com/articles/2022/06/platinum-jubilee-gallery-st-wilfrids-church/
Around Kibworth https://www.kibworthchronicle.com/articles/2022/06/platinum-jubilee-gallery-around-kibworth/
The Lea https://www.kibworthchronicle.com/articles/2022/06/platinum-jubilee-gallery-the-lea/
Mowsley https://www.kibworthchronicle.com/articles/2022/06/platinum-jubilee-gallery-mowsley/
Kibworth & Smeeton WI https://www.kibworthchronicle.com/articles/2022/06/platinum-jubilee-gallery-kibworth-smeeton-wi/
The Well/ Scouts https://www.kibworthchronicle.com/articles/2022/06/platinum-jubilee-gallery-scouts-the-well/
Smeeton Westerby https://www.kibworthchronicle.com/articles/2022/06/platinum-jubilee-gallery-smeeton-westerby/
Burton Overy https://www.kibworthchronicle.com/articles/2022/06/platinum-jubilee-gallery-burton-overy/
Beaker Close https://www.kibworthchronicle.com/articles/2022/06/platinum-jubilee-gallery-beaker-close/
Foxton https://www.kibworthchronicle.com/articles/2022/06/platinum-jubilee-gallery-foxton/
Gumley https://www.kibworthchronicle.com/articles/2022/06/platinum-jubilee-gallery-gumley/
Glooston https://www.kibworthchronicle.com/articles/2022/06/platinum-jubilee-gallery-glooston/
Gaulby https://www.kibworthchronicle.com/articles/2022/06/platinum-jubilee-gallery-gaulby/
GEMS/The Railway https://www.kibworthchronicle.com/articles/2022/06/platinum-jubilee-gallery-gems-the-railway/