Platinum Jubilee Gallery (Burton Overy)
Platinum Jubilee Celebrations in Burton Overy
The Village celebrated the Platinum Jubilee with a street party and church service on Sunday 5th June.
Over the Jubilee weekend there was a competition for the best homemade crown, decorated front garden and scarecrow of the queen.
The Judges, Norma Hillas and Natasha Box, walked round the village on the Saturday Morning and were very impressed with all the jubilee decorations and queen scarecrows.
The scarecrow winner was Fran Brown and the best decorated garden winner was the King family.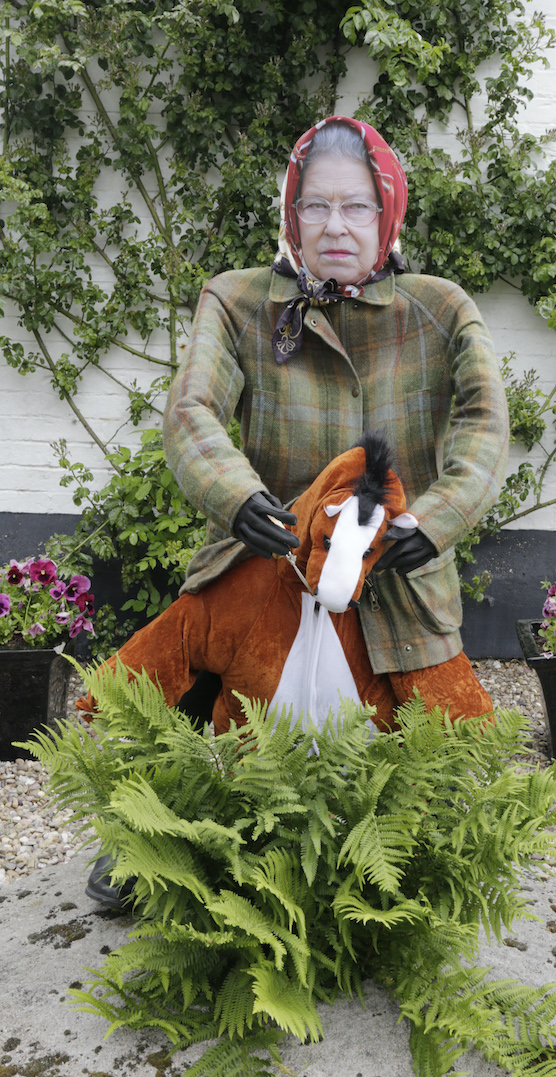 The best decorated crown (adult section) went to Judy Olsson.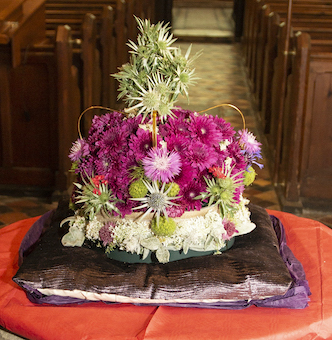 The children's winners were sisters Romilly and Hebe Gutteridge.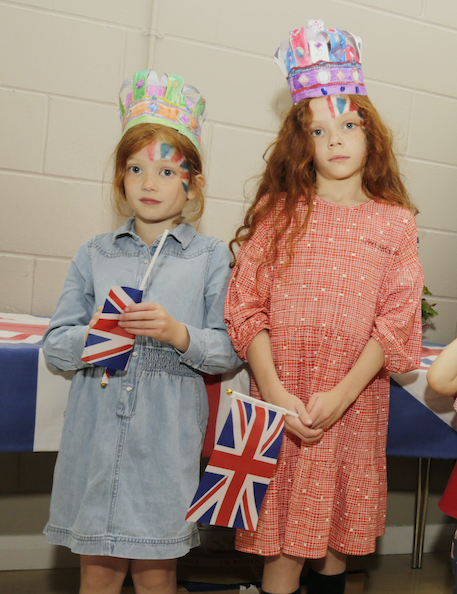 There was a Street Party organised for Sunday lunchtime which was relocated inside the Village Hall after hearing the forecast. Food was provided by villager Sam, supplying burgers & hot dogs from his mobile trailer, 'The Smoke Shack'.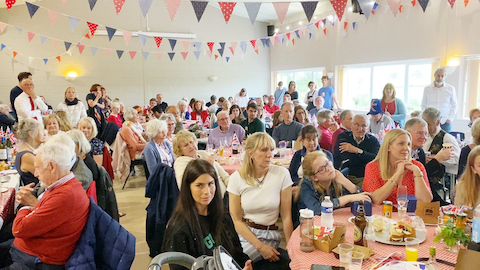 There was a copious supply of jubilee cakes made by the ladies of the village, washed down with tea OR prosecco!
All the children in the village were given Platinum Jubilee mugs by the Parish Council. England and Tigers Rugby Star, Ben Youngs, presented the mugs to the children.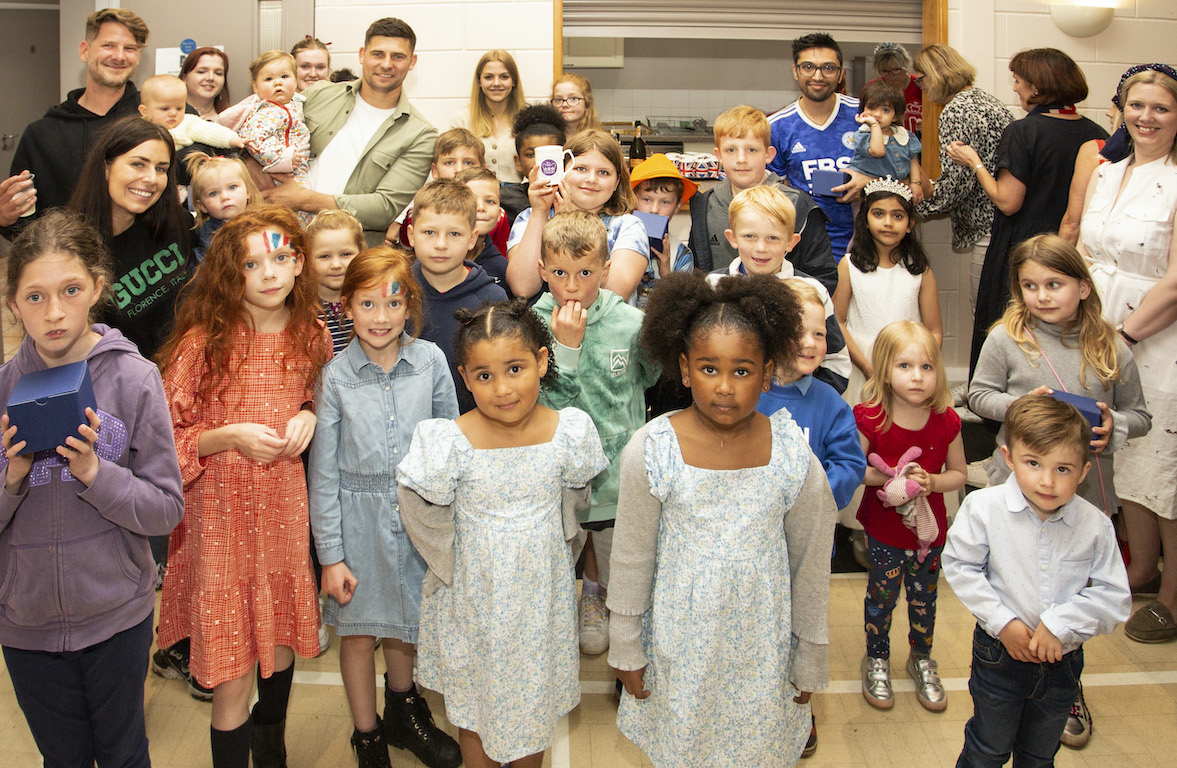 The Jubilee Cake made by Sally Muir was cut by local farmer Alan Brown, who addressed the audience with tales of previous royal celebrations in Burton Overy, of which he had witnessed many.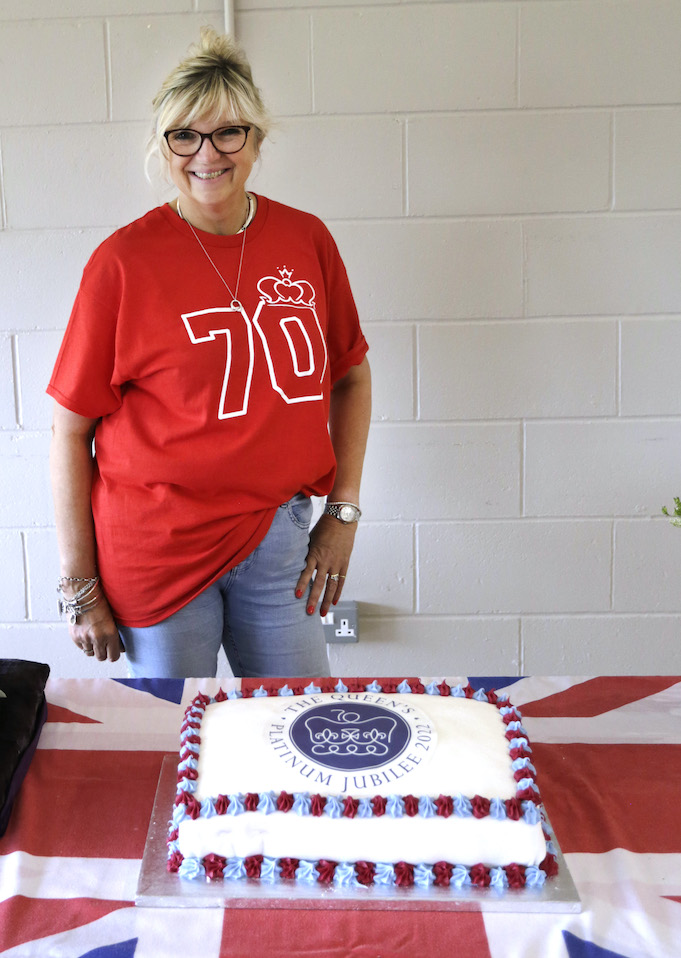 On Sunday evening there was a Queen's Jubilee 'Songs of Praise' service, in St Andrews church Burton Overy. During the service a new wall hanging was revealed with the blessing of vicar, Kim Ford.
The embroidered creation was made by villager, Jane Buckley.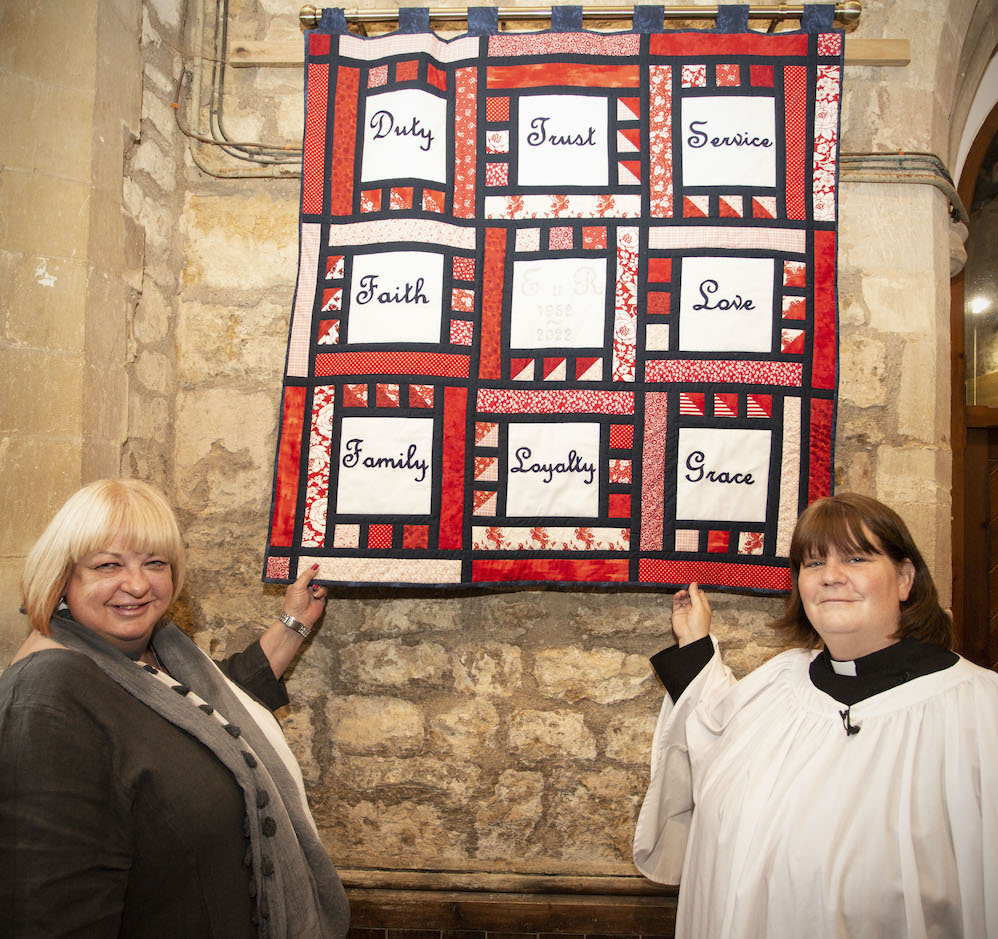 Words on the wall hanging had been chosen by the village to sum up the reign of Queen Elizabeth, and Jane took over 200 hours making the work of art, that will hang in the church for decades to come.
Graham Thompson 
Check out the other Platinum Jubilee Galleries using the links below 
St Wilfrids Church https://www.kibworthchronicle.com/articles/2022/06/platinum-jubilee-gallery-st-wilfrids-church/
Around Kibworth https://www.kibworthchronicle.com/articles/2022/06/platinum-jubilee-gallery-around-kibworth/
The Lea https://www.kibworthchronicle.com/articles/2022/06/platinum-jubilee-gallery-the-lea/
Mowsley https://www.kibworthchronicle.com/articles/2022/06/platinum-jubilee-gallery-mowsley/
Kibworth & Smeeton WI https://www.kibworthchronicle.com/articles/2022/06/platinum-jubilee-gallery-kibworth-smeeton-wi/
The Well/ Scouts https://www.kibworthchronicle.com/articles/2022/06/platinum-jubilee-gallery-scouts-the-well/
Smeeton Westerby https://www.kibworthchronicle.com/articles/2022/06/platinum-jubilee-gallery-smeeton-westerby/
Burton Overy https://www.kibworthchronicle.com/articles/2022/06/platinum-jubilee-gallery-burton-overy/
Beaker Close https://www.kibworthchronicle.com/articles/2022/06/platinum-jubilee-gallery-beaker-close/
Foxton https://www.kibworthchronicle.com/articles/2022/06/platinum-jubilee-gallery-foxton/
Gumley https://www.kibworthchronicle.com/articles/2022/06/platinum-jubilee-gallery-gumley/
Glooston https://www.kibworthchronicle.com/articles/2022/06/platinum-jubilee-gallery-glooston/
Gaulby https://www.kibworthchronicle.com/articles/2022/06/platinum-jubilee-gallery-gaulby/
GEMS/The Railway https://www.kibworthchronicle.com/articles/2022/06/platinum-jubilee-gallery-gems-the-railway/