The Legacy of a War Poet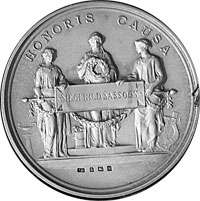 Kendall Sassoon is the only remaining grandchild of the poet and writer Siegfried Sassoon. The first thing she shows us is a silver replica of his gold Poetry Medal; the original she has given to the Caernarvon Museum of the Royal Welch Fusiliers to sit beside his pistol. As she says, 'love versus war'. Her grandmother Hester was a colourful character with alleged Sicilian Mafia connections. Photographs show an elegant, poised woman in a stylish dress. After the marriage to Siegfried ended, Hester went to live at Lochbuie on the Scottish island of Mull.
The Sassoons could trace their origin back to King David so it was said. They made their money in trading oriental goods such as silk and opium. By Siegfried's generation, they were the epitome of English gentry. He was an accomplished rider who loved shooting and hunting but with a passion for books. His rugged looks belie the image of a 'sensitive' poet.
Kendall paints images of Siegfried's house at Heytesbury which she visited for the first time as an adult: the library, smelling of wood smoke, with its big open fire, recreated by Dennis Wheatley in his thriller 'The Devil Rides Out', and the lyres, lutes and Irish instruments with which it was adorned. 'Hester was going through a Gaelic phase' she says. She recalls her apprehension at first going there and wondering what she should wear to such a grand place, the bats that lived in that vast high house, and famous people who passed through such as Max Beerbohm, or T.E. Lawrence, who took part in food fights with Siegfried.
Another treasured possession is a copy of 'Siegfried Sassoon: A Poet's Pilgrimage', compiled by D Felicitas Corrigan and specially bound for George, Siegfried's only child. In photographs, Siegfried is tenderly cradling the son that he was so proud of. Yet George's life seems to have been a turbulent one and beset by tragedy. After his marriage to Kendall's mother Stephanie ended, he did not see his daughter again until she was 21. Kendall's half-brother and sister died in a car accident in early adulthood. George played the accordion and bagpipes – not well apparently. He also had obsessions with the supernatural. To be the inheritor of such a house and such a family history is often to be the recipient of a poisoned chalice. The house was sold just before George's death and divided into flats, many of which have been bought by fans of Siegfried.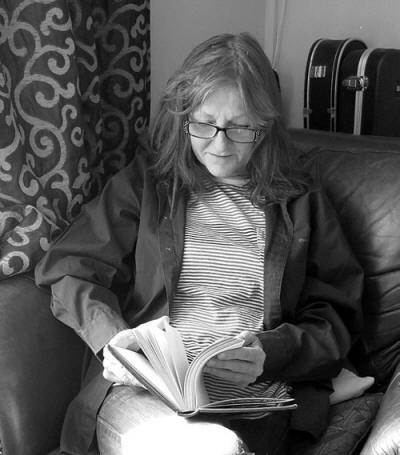 Kendall is very proud of her famous grandfather: 'He went from posh boy to soldier' and the system opened his eyes to the eagerness with which the establishment signed up young boys to fight. But the poetry remains. Her most dear possession is a poem written by Siegfried in 1936 soon after George's birth entitled 'To my son' in which he urges the child to be gay, wise, strong and brave, ending with the line: 'Possess your soul which you alone can save'.
With her unsettled and wandering life, Kendall has needed to be all those things. After many years of searching she has, in Kibworth, finally found a place where she can be accepted and at peace.
JME
PS Kendall, as an "annoyingly regular" user, wholeheartedly supports the efforts of the community to keep the library open for everyone's sake.