A Royal Link to a Kibworth Hero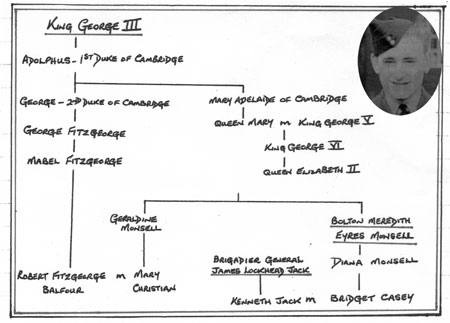 I was searching through some First World War records recently when I came across Kibworth's own champion, Brigadier General James Lockhead Jack – known to us locally as 'General Jack' – of the Old House, Main Street, Kibworth Harcourt.
I became intrigued when I delved into his family, only to find he is connected through marriages to our royal family. The link stretches back to King George III, through his seventh son, Adolphus, 1st Duke of Cambridge.
Not only is General Jack connected to the highest in the land but I also found that his son's grandfather-in-law was Bolton Meredith Eyres Monsell, 1st Viscount Monsell. As most of us are aware, Eyres Monsell is a suburb of Leicester, where a large council estate was built. Apparently, this was on land the Viscount had owned before it was compulsorily purchased in the early 1950s. Bolton was created Knight Grand Cross of the Order of the British Empire in 1929 and Viscount in 1935. He also became First Lord of the Admiralty in 1931.
To clarify the connection between General Jack, Viscount Monsell and King George III, I have produced a section of a family tree that tenuously links all three of these illustrious and distinguished gentlemen; even our own Queen, Elizabeth II makes an appearance.
Glyn Hatfield