Remembrance: Private Harold Kirk 1891-1917
On Sunday 9 November, in Kibworth as in villages, towns and cities across the country, wreaths were laid at the war memorial in remembrance of those who died serving their country in the two world wars and later conflicts. At a service in St Wilfrid's Church, the long list of names was read out, clearly and reverently, giving each name a quiet moment. Three members of the congregation spoke about the experiences of their own families – the pain of loss and the joy of meeting again. Joy Hill told the story of her Great Grandfather Harold Kirk. Her account is given below.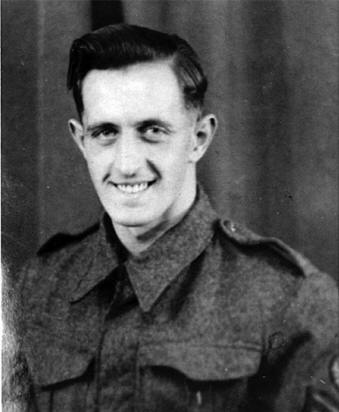 Harold Kirk was born in Mansfield on 19 June 1891; the youngest son of five children from a mining family, Harold's occupation was to look after the ponies in the mines. He loved his work as a farrier, caring greatly for the pit ponies.
Harold served with the Notts & Derby regiment of the Sherwood Foresters, 2nd/6th battalion, signing up when it was formed on 14 September 1914 in Bolsover, Chesterfield as a second line unit. In January 1915 the battalion moved to Luton where Harold was billeted to lodgings at 154 Wellington Street with the Lawrence family. The regiment was placed under the command of the 2nd Notts & Derby Brigade in the 2nd North Midland Division. Further moves were made to Watford then Dunstable; on 16 August 1915 he married Mr & Mrs Lawrence's daughter, Beatrice, at St Saviours Church, Luton. A year later, their daughter Edna May was born on 30 August 1916.
In April of that year, his battalion had been moved to Ireland to quell disturbances, before finally being stationed in Fovant in Wiltshire on 12 January 1917 to prepare for involvement in the Great War. With a need to find accommodation for the New Army, training and transit camps were being established for troops leaving for, and returning from, the battlefields in northern France. The villages and fields in the shadow of the Wiltshire chalk downs became a military camp complete with barracks, a hospital, parade areas, shooting practice ranges, a cinema and YMCA huts. A military railway was constructed to serve the camp, branching off from the main line from London to the southwest.
Thousands of men from all parts of Britain and overseas lived here for a while before passing on to the Western Front; in remembrance of their colleagues, many of the regiments carved into the hillside replicas of their cap badges – by the end of WW1 there were some 20 discernible badges, some of which have been restored and are still visible today.
On 25 February 1917 Harold's battalion landed at Boulogne on their way to the Upper Somme battlefields of northern France. Altogether some 140,000 men served in the Regiment of the Notts & Derby Sherwood Foresters, of which 11,409 did not return from the war. Private Harold Kirk died on 30 April 1917 from his wounds, aged 25; his daughter Edna May was exactly eight months old – he had been fortunate enough to see her just once before his Regiment was sent to fight at the Somme.
He is buried at La Chapellette British & Indian Cemetery, near Peronne in northern France; the town of Peronne had been liberated by British troops on 18 March 1917; perhaps he was fatally injured during the liberation of this town, we will never know. Private Harold Kirk is commemorated on both the Bolsover and Luton War Memorials; he was my Great Grandfather, his daughter Edna May my Grandmother.
On Sunday 19 October 2014, Private Kirk was named in the Roll of Honour at the Tower of London. Every evening, between 1 September and 10 November, the Last Post has been played at sunset over the Tower moat, which has been filled with 888,246 ceramic poppies, one for every death in the British forces in the First World War.
By all accounts, Harold Kirk was a very kind, compassionate and caring man, a favourite of his siblings. He took pride in looking after the pit ponies; it is fitting then that on 19 October, the poppies installation was visited by Michael Morpurgo, author of the best selling book and theatre production 'War Horse'. Michael Morpurgo planted a poppy before reading the Roll of Honour, a final tribute to a brave young man who gave his life; one of many who were never to return home to their families