'Some Corner of a Foreign Field'
Since the centenary of the outbreak of the Great War, the Chronicle has recounted the experiences of local men who served their country. Some, like Maynard Ward and Len Capell, returned safely, though changed forever. Others, such as Harold Kirk and Tom Brutnell, did not return. Their families mourned them then and their loss is still felt today. Accounts of journeys to find out what grandfathers or great-uncles endured and where they are buried are often very poignant. As one writer says "The effects of war are like everlasting ripples in a pond. As the generations pass we will remember John and the sacrifice he made."
Over the months, the Chronicle will record some of these journeys. Here, Glyn Hatfield writes about his brother's discovery in France of the headstone of Harry Holyoak, one of the very first volunteers from Kibworth.
Comrades in Arms
We are commemorating the centenary of the events of the First World War, when German hostilities were directed towards this country. Many heart-rending reminiscences have been recorded since that time highlighting the tragedies that befell so many families throughout the British Empire, including our own Royal Family, when the armies of first cousins, King George V and Kaiser Wilhelm II, met on the battlefields of Europe.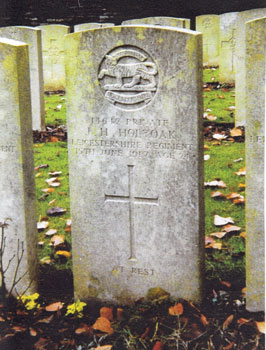 A few years ago, my brother Neil and sister-in-law Marian, were travelling through France when they decided to try and locate the grave of Marian's maternal great uncle, Robert Brown, who was sadly killed in action in the Great War, aged 20, at Croisilles. Robert had joined the 9th Battalion, the Leicestershire Regiment and after a period of training in Aldershot, he was sent to fight in France. He was killed during one of the battles near Arras on 15 June 1917, along with several comrades on that day. His grave was located in the British War Cemetery in Croisilles, where it was noted that each of the headstones were placed closer together than usual. It transpired that a total of 28 soldiers from his and other battalions of the Leicestershire Regiment were killed between 8 and 18 June and they were all subsequently laid to rest in a grave where their arms were linked together as a show of comradeship even in death.
My brother took a photograph of Robert Brown's grave for the family archives but then noticed, a few headstones along, there was one for a John Harry Holyoak, who died on the same day as Robert, aged 24, both belonging to the same regiment. My brother was aware that a couple of Holyoaks were mentioned on the War Memorial in Kibworth so, whilst there, he decided to take a further photograph of this other headstone, in the hope it would match up with one of the inscriptions. After some research, I established that it did and John Harry Holyoak, known as Harry, was indeed a Kibworthian. He signed attestation papers in Market Harborough in September 1914, along with 13 other volunteers from Kibworth.
So many young lives were lost during this period in our history and I remember an old friend of the family, Miss Winifred Vann, once telling me that every man from her street in Leicester (Elbow Lane) joined the Leicestershire Regiment and all but one were killed in action. The one who did return, however, suffered the effects of gas poisoning and sadly didn't live long enough to celebrate the Armistice being signed. Thankfully, my two great uncles, William and Cecil Hatfield, also belonging to the Leicestershire Regiment, returned home safe and well from the conflict.
As we commemorate this centenary, let us remember the bravery shown by so many of our predecessors, enduring those terrible conditions in the trenches and elsewhere and also the heartache suffered at home by the families of loved ones who perished, for the freedom we enjoy today. We are indebted to those brave service men and women who volunteered to fight for their King and Country 100 years ago and who came from all corners of the Empire, including Kibworth and other surrounding villages, as can be seen from the inscriptions on the many War Memorials up and down the country and throughout the Commonwealth.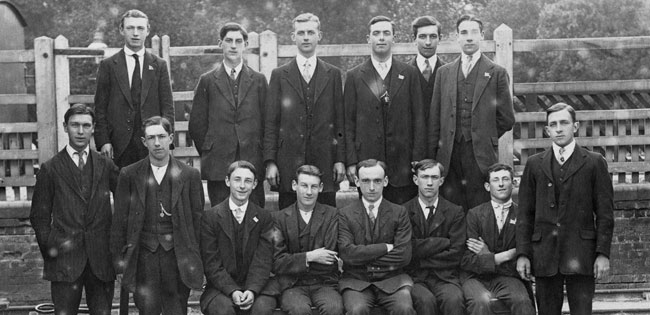 My grateful thanks to Doreen Deacon who helped with my research.
Glyn Hatfield