The Great War: Remembering Private Tom Brutnell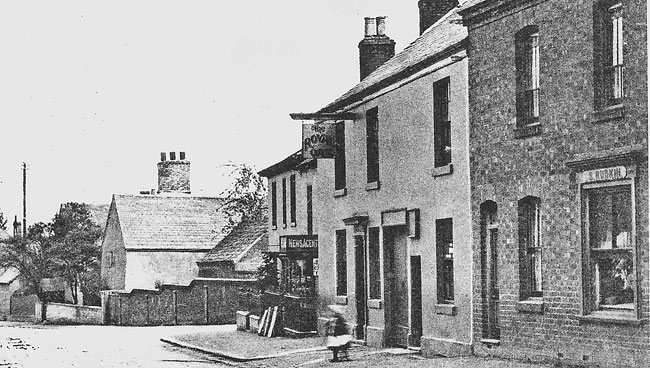 Pictured above, The 'Royal Oak' at Smeeton Corner where Tom lived with his younger brother, Walter, and sisters, Ethel and Ida. The photo was taken by Alfonso Freeland, local chemist.
Tom was the eldest son of William and Fanny Brutnell of the 'Royal Oak' Kibworth Beauchamp. At the age of 13 Tom is recorded on the 1911 census as being a butcher's errand boy. He became an apprentice hosiery mechanic working at Johnson & Barnes with many of his comrades, who also enlisted to fight in The Great War. At the age of 18 Tom joined the Army Reserve on 15 February 1916. He was mobilized to the Army Service Corp, at Grove Park, London, to undertake training as a caterpillar fitter. Tom passed his learners test and qualified as a caterpillar fitter on 11 October 1917.
On the 30 December 1917 Tom was on board the troopship SS Aragon laden with around 2700 passengers bound for the conflicts in Palestine. The 9588 tons of ocean liner drifted gently and as she waited in sight of land was torpedoed by the German Submarine and minelayer UC-34. The destroyer HMS Attack as well as every ship within reach dashed to her rescue as she sunk quickly. Many of the men taken onto HMS Attack had just stripped off their oil drenched clothes and lain on the deck when this ship too was torpedoed by the same submarine. Private Tom Brutnell was among the 610 passengers who were lost at sea. He was awarded the British War Medal.
Private Brutnell is commemorated on the Kibworth War Memorial along with many of his comrades and he is also recorded on the gravestone of his mother, Elizabeth, in Kibworth Cemetery.
For further reading about Private Brutnell see Kibworth History Society's website www.kibworth.org.
In response to my letter in the February Chronicle asking for photos of Tom Brutnell, John Clow and Michael Higgs kindly contacted us.
(Information from John Clow)
From the information given to us by John and by looking at the 1911 census it is possible to see that Tom Brutnell was his grandma Ida's brother. Tom and Ida's parents William and Fanny Brutnell were John's great grandparents.
Fanny Brutnell awarding trophies to the Kibworth Angling Society at the Royal Oak around 1950.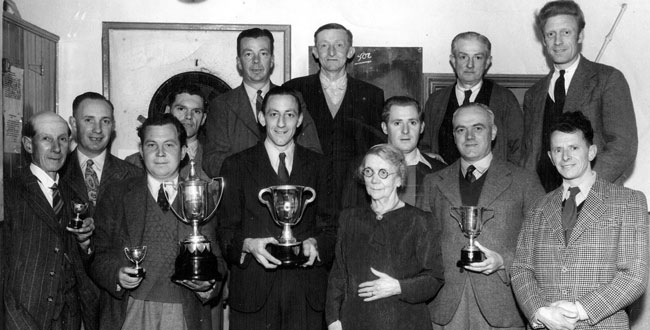 John thinks Fanny may have passed away a short while after this photo was taken and that her son, Walter, took over the Royal Oak for a while. He also believes that it closed somewhere around 1957 because the Angling Society went to the Working Mens' Club after that. John remembers that ladies attending the Royal Oak used to sit in Fanny's parlour. He also remembers that Fanny never liked her photo being taken so this photo must have been a rare glimpse of her at the Royal Oak!
(Information from Michael Higgs)
When the Royal Oak closed the property was converted into a private residence and from 1959 – 1963 Michael's parents, William and Violet Higgs, lived there.
Many thanks to Doreen Deacon who has kindly forwarded to the Chronicle this photograph of the Royal Oak Table Skittles team, taken during the  1950s.