Mothers' Union Year End


Our final meeting of the year was on Thursday 1st December. In the middle of the MU International No More 1 in 3 Awareness Campaign for ending all forms of the abuse against women and girls. This Campaign ran from the 25th November to 10th December. The last day coinciding with the International Day of Human Rights. During the Campaign, daily prayer vigils were said at midday. Posters were placed around the village and church raising the profile of those who are exposed to these horrors urging us all to be vigilant and speak out for those in danger. During the meeting we were able to collect £40.00 for charities combating Gender Based Violence.
Christmas Quiz
As the meeting progressed a Christmas quiz gave rise to much laughter. As well as frustration when members were challenged by the range of questions in various categories including Christmas food, music and general Christmas knowledge. Three successful teams were able to enjoy tucking into their chocolate winnings while the rest of us continued munching our mince pies.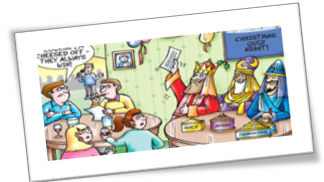 Anne Willis had faithfully and accurately recorded each MU meeting and any additional activities over many years in her big red book. However, she now felt it was time to relinquish this role, passing it on to me to continue the good work. As a huge thank you, MU members presented her with a signed floral card, pot plant and small gifts. We expressed our grateful thanks for her long service.
Later we had a hearty 'lunch stop' meal together in St Wilfrid's Church hall. MU and the Church Pastoral Team hosted a Christmas Gathering and Carol 'Sing Along' on 10th December in the Church Hall. The 'Sing-Along' was attended by twenty-two guests, raising £31.10 from a raffle. In the summer we also donated £50.00 to the Leicester Diocese MU project 'Away From It All Holidays' to help families have a well-earned break.
Join Us
We meet regularly on the first Thursday of each month in St Wilfrid's Church hall at 10.00am following our service. Looking for a purposeful village group with a heart which serves the community while having some fun and chatter? Then why not come along for a visit. You would be most welcome and we would love to see you.
For any further information or a chat please contact Eunice on (0116) 2796154.
---
To see more about the actities of your local Mothers' Union, please visit:
---
Theresa Jackson