Our District Churches – well just outside our area!
St Mary the Virgin, Ashley, Northamptonshire (No 6)
To say this is no ordinary parish church is definitely an understatement!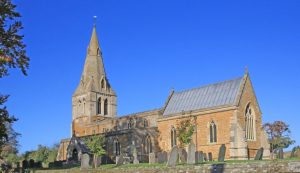 Ashley Village Church is dedicated to St Mary the Virgin. The Church was mostly rebuilt by Sir George Gilbert Scott in 1867. It was rebuilt for the Rev Richard Pulteney, Rector 1853-1874 and also the Squire. The cost £2,000, a large amount in the 1800s.
The Church is of 13th century origin and built of local Northamptonshire Ironstone and limestone. It is Grade 1 listed. The Church is known for its tower and broach spire.
It has a marble, alabaster, semi-precious stone and gold leaf decorated chancel. The chancel is designed by Clayton and Bell as are the stained-glass windows. The Church was described by Historic England as "an outstanding example of Victorian Gothic style at its height". There is a painted barrel ceiling which is similar in characterestics to the ceiling at Peterborough Cathedral. The Church has chandeliers made by George Bodley. Further information on those involved in the rebuild is given below.
Sir George Gilbert Scott
Sir George Gilbert Scott was one of many Gothic Revivalist architects. Amongst his many notable works are:
Wakefield Cathedral
Albert Memorial
Foreign and Commonwealth Office
Midland Grand Hotel (Now the St Pancras Renaissance Hotel)
St Pancras Railway Station and
Ashley Church
Clayton and Bell
Clayton and Bell was one of the most prolific and proficient British workshops producing stained-glass windows during the latter half 19th/early 20th century. The partners were John Richard Clayton (1827–1913) and Alfred Bell (1832–1895). The company was founded in 1855 and continued until 1993. Their most notable nearby work is to be found in Peterborough Cathedral and of course, Ashley Church.
George Bodley
George Bodley, with his partner, Thomas Garner, designed:
Why Not Visit St Mary's, Ashley
St Mary the Virgin is a stunning church in the small, picturesque village of Ashley, nestling in the beautiful rolling hills of the Welland Valley. The village is about 4 miles north-east of Market Harborough.
It is definitely worth taking diversion off the road from Weston-by Welland to Medbourne to visit this extremely fine building.
---
For more on our local district churches, please see:
---