Kibworth and Smeeton WI.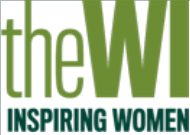 As reported in December's Chronicle, little Christmas gift bags were delivered to our members by some of Santa's elves(aka the committee).These deliveries took some time as catch-up chats on the doorstep were enjoyed along the way. Members have shared stories of how they celebrated Christmas within the restrictions that we all need to follow.
Meeting up with the family.
Gail and her husband met their children and grandchildren at a large pub car park in Kettering. Equipped with their own chairs and flasks, they sat safely distanced, chatting and exchanging news, before placing presents in each other's car boots and arranging to Zoom on Christmas Day.
Norah had to scrap plans for her family to spend three days with her and her husband, so the turkey she had ordered was cut in half for her by the obliging farmer, whereupon she delivered one half, complete with stuffing and other accompaniments, to her daughter's doorstep.
Judy, also unable to have family, was glad she had a 'plan B' – a frozen three-bird roast in the freezer! For the first time in 55 years of marriage, she and her husband had Christmas dinner alone. BUT no driving for her meant that alcohol came in to the equation for once and 'apparently' a very jolly and tasty meal was enjoyed by them both!
Outside but not cold!
A gazebo and brazier bought specially for the day by their daughter and son-in-law solved the problem for Nicola and her husband. Many layers of clothing and snug blankets didn't prevent them from eating too much, with the fine excuse that a full stomach, several brandies and coffee laced with Baileys, amazingly, made them feel much warmer! A little sad that their son and family couldn't join them because he had tested positive for Covid, They were able too, to have fun with family in Australia, who messaged them videos of them sitting, too hot, in their 'next to nothings'! Three households in our family coordinated the timing of their Christmas dinners so they could enjoy eating it together, in the safety of their own homes, via Zoom and could also watch each other opening their presents.
New Year's Eve.
New Year's Eve brought an invitation to Mary from her daughter and husband to join them in their 'bubble' for a very special meal. In view of the lockdown to come, they all dressed up. They played board games and cards until midnight, when they watched the superb show of fireworks, lasers and drones in London. Driving home alone was spooky, with no other cars on the road.
It was a very different Christmas for us all. Let's hope for a happier 2021, even if it takes a while.
Pat SharmanKibworth and Smeeton WI.