Henry Smith + Hamylton, Market Harborough
Opening Night Review
Having an opening evening on a cold rainy night in mid-November might not seem like the ideal scenario for a successful event. However, the warm glow of our beautiful bow fronted practice defied all odds and the soggy street was soon forgotten.
Welcomed by a cheery smile and glass of fizz, supplied by Duncan Murray, everyone's damp coats were soon whisked away and merry chat ensued.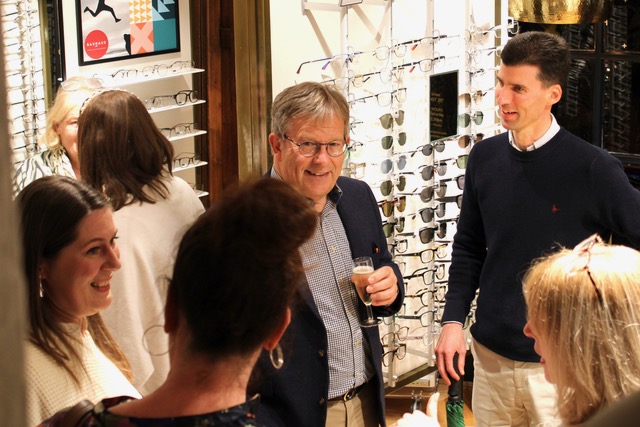 Julia, our director and fourth generation Smith + Hamylton, informed our guests about the beginnings of the firm, starting on Loseby Lane in Leicester in 1887. All the while referring to the family photos hanging over the fireplace.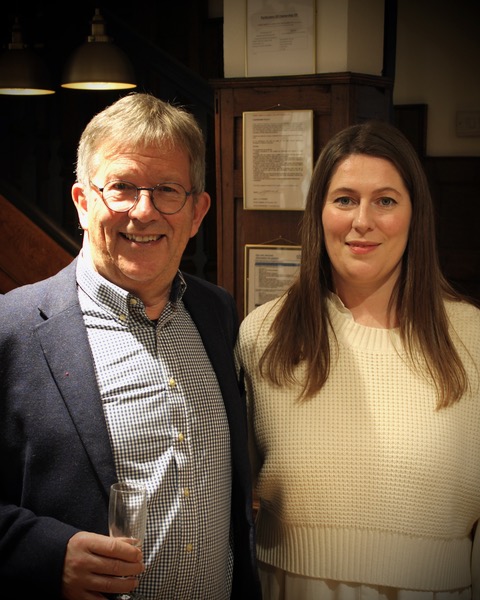 Specialist Children's Optician
After a peek at the testing room, and with glasses refilled, next stop on the tour was the specialist children's room, with a wide range of children's frames to admire and games to play to keep younger ones amused.
With most children being in bed by this point in the day, and all guests being adults, it wasn't long before we continued along the corridor to explore the Sports Vision Room.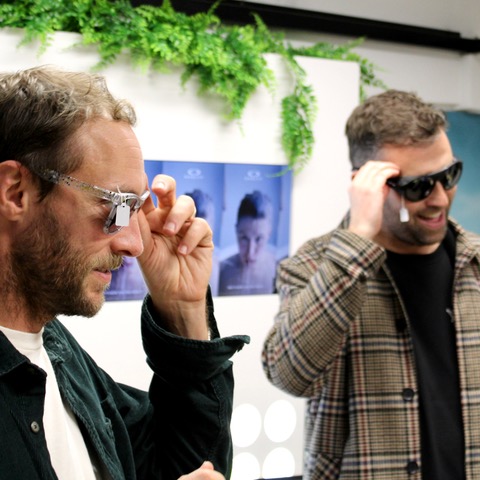 With modern lines, bright pops of colour and an impressive array of sporting glasses, it would have been rude not to try them on which a lot of guests did. Our dispensing optician, Emily, was on hand to answer any optical questions, with her broad knowledge of lens types and functionality.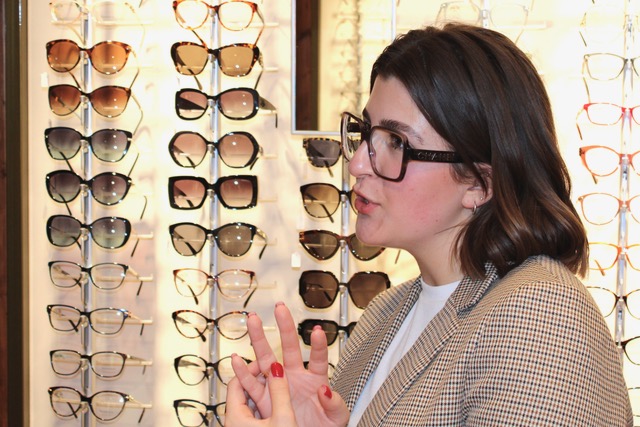 Specs connect with your social media
The highlight of the evening for many was trying out the new Rayban Stories glasses! Extraordinary specs with integrated cameras, speakers and simple touch controls we were able to film the festivities from our individual perspectives.
You can even have music playing out of them, and answer your phone! Such a nifty bit of kit and glazeable so you can have them made to your exact needs – perfect for social media gurus and tiktok whizzes!
Goodies for all
Delicious food, supplied by Milos was a huge hit, the millionaire's shortbread naturally being the first to go. As people were leaving they were presented with a specially made Henry Smith + Hamylton goodie bag, full of optical goodies to take away.
Meeting and greeting our neighbours
The best part of the evening was meeting and getting to know people from our wonderful neighbouring independent business. Everyone was so lovely; welcoming us to Harborough, wishing us well and promising to book in for their sight tests once the excitement of the day had passed.
Some even volunteering their unsuspecting colleagues for a visit, those whose arms are getting to the point of not being long enough!
The merriment continued late in to the evening, and after a slightly bleary-eyed tidy up first thing the next day it was back to business as usual.
We look forward to the next event
We can safely say a fun time was had by all, with Rayban stories videos and empty plates to prove it, and we very much look forward to the next event. Watch this space!
Henry Smith + Hamylton Opticians, 45 High St. Market Harborough.
www.smithandhamylton.com