Fleckney & Kibworth Running Club Dec 22

Throughout autumn and now into winter, club runners have represented the club well in a variety of races and events.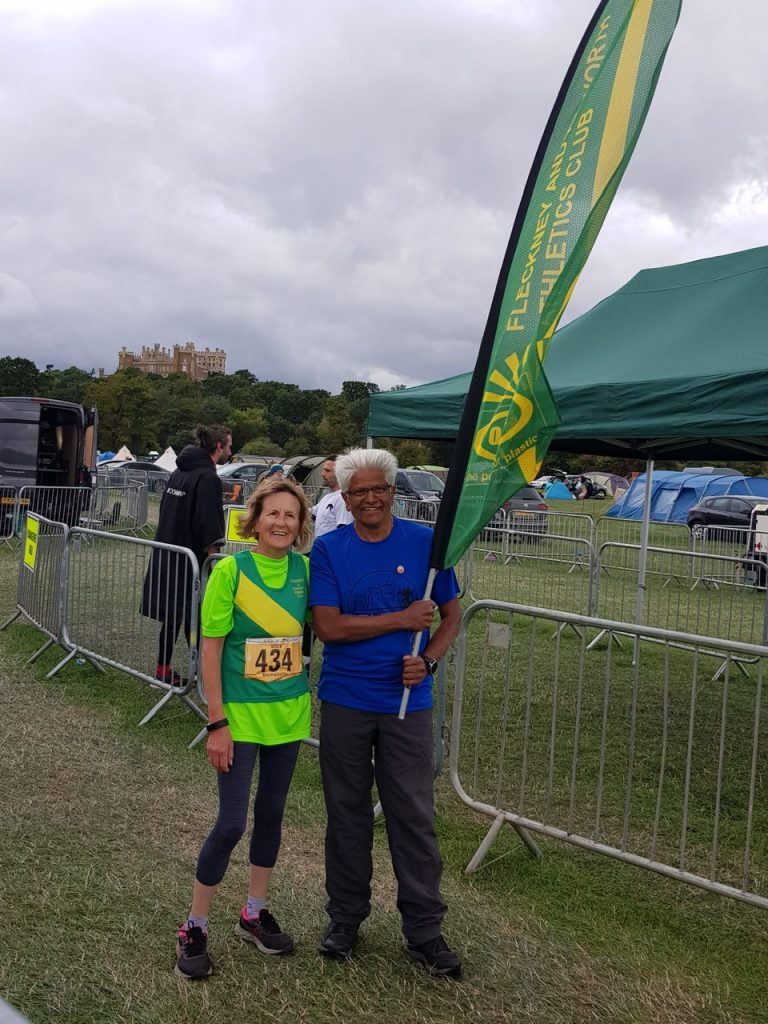 Race Reports
Great North Run was well represented by the club. First in for the men's team was Alan Gibson (2 hours :03 minutes) followed by Chris Lydiate (2:14), first female for the club was Aileen Collins (2:48) followed by Tracey Coates (3:00), who once again raised valuable funds for Hearing Dogs for Deaf People.
Equinox 24hr Team Challenge
Set in the picturesque Belvior Castle estate, a 10km loop that this year was tackled by members comprising of a team of seven. Bernadette Owen and Kirit Patel represented the club in the solo category, each maintaining 10 laps. Kirit completed his in 15:55:35, finishing in 72nd position. Bernadette completed her laps in 23:46:01, achieving 54th position.
10k night runners included Adam Niblett (00:51), Jim Hawley (00:52), Annie Frankham (00:54), Vince Brown (00:56) and Barbara Blunt (1:00)
Leicester Half Marathon
Calm and cool conditions allowed for great results from our members this year. First in for the men's team was Alex Prettyman with a PB of 1:25, followed by Pete Bennett (1:41), Adam Niblett – also a PB (1:46), John Clampin (1:56), Patrick Amos (2:09) and Steve West (2:51). First for the ladies' team was Lorna Muskett (1:39), followed by Deepti Maheswaren (2:03) and Kirstie Faust (2:22)
Cardington Cracker
Sam Pole took to the fells on 4th December to race a 9-mile course in mist and light rain, covering an overall ascent of 793m, which has been described as gruelling in parts. Sam maintained an impressive top ten finish of 9th position in a time of 1:26:14
Derby runner cross country league
Derby
The winter XC league races are currently underway, with two races completed so far. First up was Holly Hayes Woods 5-mile race, with the Fleckney & Kibworth veteran members blazing the way. John Redfearn finished first for the mens' team in 216th place, followed by Andy Kemp and Steve West (in his debut race). First in for the ladies' team was Tracey Coates in 154th place, also in her debut race.
Second up was another 5-mile race Bagworth Heath, with a little more rain recently to add to the muddy conditions, which set the scene well for our team. First to finish for the men's team was Mike Higgins in 120th place, followed by Andy Kemp and Steve West. First for the ladies was Bernadette Owen in 70th place, followed by Jude Hughes.
Further cross-country races will continue in the New Year.
Couch to 5K – Join Us!
Beginning at 6.30 pm at Kibworth Methodist Church, School Road, LE8 0HS on Thursday 12 January is the start of our FREE 9-week Couch to 5K course; contact Andy Kemp for further details.
also www. fleckneyandkibworthrunners.co.uk
Club Nights from January
Tuesday – Fleckney Silver Band Hall (6:45pm for 7pm)
Thursday – Kibworth Methodist Church Hall (7pm for 7.15pm)
If you're interested in joining us at our Regular Tuesday and Thursday Club Nights, please contact one of us below or find us on Facebook (Fleckney & Kibworth Running Club)
Andy Kemp 07525 465 643
Alan Gibson 07960 969 810