Sculpture to be formally unveiled on Armistice Day
14th November 2022 |
Sport
Leicester Tigers Foundation, "When we were Tigers" Monument located at Leicester Tigers Stadium, Welford Road Plaza, is to be formally unveiled by Peter Wheeler, DL on 11 November – Armistice Day. The unveiling will commence at 10.30am. The monument commemorates and celebrates the 54 Leicester Tigers rugby players who lost their lives as a consequence of war.
Standing at nearly 20 feet tall in Leicester, outside the most followed Rugby Union club in the Premiership. The monument is an iconic contemporary piece of art. It is a symbol of the bravery and courage to the players who made the ultimate sacrifice.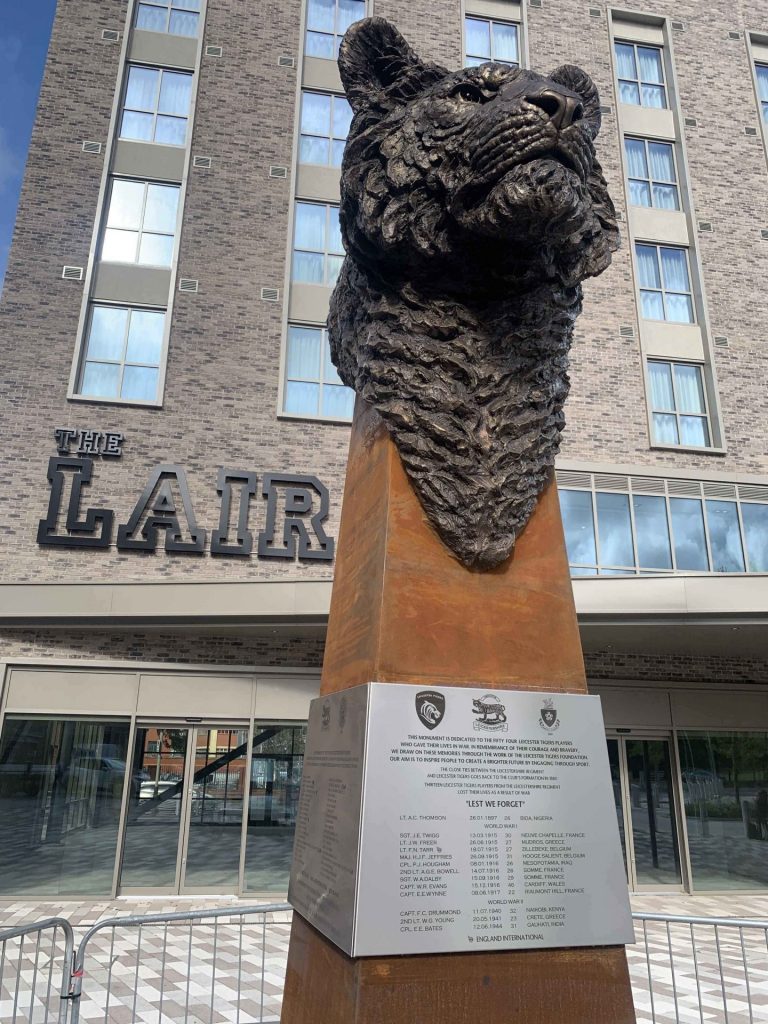 The design of the monument was created by Kibworth based artist Harvey Gardiner FRSA. The statue then evolved in conjunction with artist Steve Winterburn.
Interactive QR codes placed on the monument's plaques enable you to download a film. This takes you on a journey from Bida in Nigeria (where the first player LT A.C.Thomson was killed in 1897 in the African Conflicts), to Berlin in 1945 at the end of the Second World War.
Created in Solid Bronze, Corten and Stainless steel, the giant tiger's head faces towards Ypres where several players lost their lives in the First World War.
Designed to engage, we travel across the fifteen different countries where the players sadly died. We discover the monument's secrets which lie in the amazing stories of the players. From British Lions, Internationals and Barbarians, from the Somme, the Battle of Britain, El Alamein, the River Kwai, the Liberation of Colditz and even the exploits of a Russian Prince!
The monument serves as an inspiration for many to get involved in the work of the Leicester Tigers Foundation. This seeks to make a positive difference to the lives and opportunities of thousands of individuals and groups every year.
The creation of this visionary monument has brought together hundreds of different people and organisations. These include; Peter Wheeler, Rory Underwood, The Dean of Leicester Cathedral, The British Lions, The R.F.U, The Royal British Legion, The Commonwealth War Graves Commission, The Royal Leicestershire Regiment, The Army, The Navy, The R.A.F and The Royal Society of Arts, along with fans, supporters and many others. All in celebration of Leicester Tigers rugby club's rich past and exciting future.
In the words of Harvey Gardiner:
"This monument is such a special piece of ground-breaking interactive art. It promotes the idea that people can deepen their connection with the club by linking into the Foundation's outreach and educational programmes through the monument's embedded QR technology. Exploring through the medium of sport provides an incredible platform to help us engage with more and more people to create the opportunity to make real a difference.
"Connectivity and interactivity bring this monument to life. It has been a privilege to be involved in creating this inspirational and educational piece. I hope it can continue to cross boundaries and spur on the fantastic work of the Leicester Tigers Foundation helping to create a place where positivity always wins."
To learn more about the Leicester Tigers Foundation Monument, please contact: Harvey Gardiner FRSA via info@originaldisplays.co.uk
Or visit the website www.harveygardiner.co.uk