Kibworth Art Lovers
Great Glen artist, Ray Riley, visited the Kibworth Art Lovers' May meeting to demonstrate the popular Bob Ross 'Wet-on-Wet' technique of painting with oils. Having become fascinated by this technique through watching Bob Ross on television, Ray developed his love of painting by attending workshops to learn this method for himself.
He went on to qualify as a Bob Ross instructor for both landscape and floral techniques and, realising an aptitude for teaching, set up classes to share his passion for a style in which it was possible to create 'a painting to be proud of' in just one enjoyable sitting.
Demonstrating floral technique
Choosing to demonstrate the floral technique, Ray talked us through a painting of four roses, from the soft background, through the application of the paint from which leaves and petals were drawn, to the layering of colours which brought the painting to life.
All his paints and brushes were specifically 'Bob Ross' products. Our members showed their appreciation for an inspiring and enjoyable evening.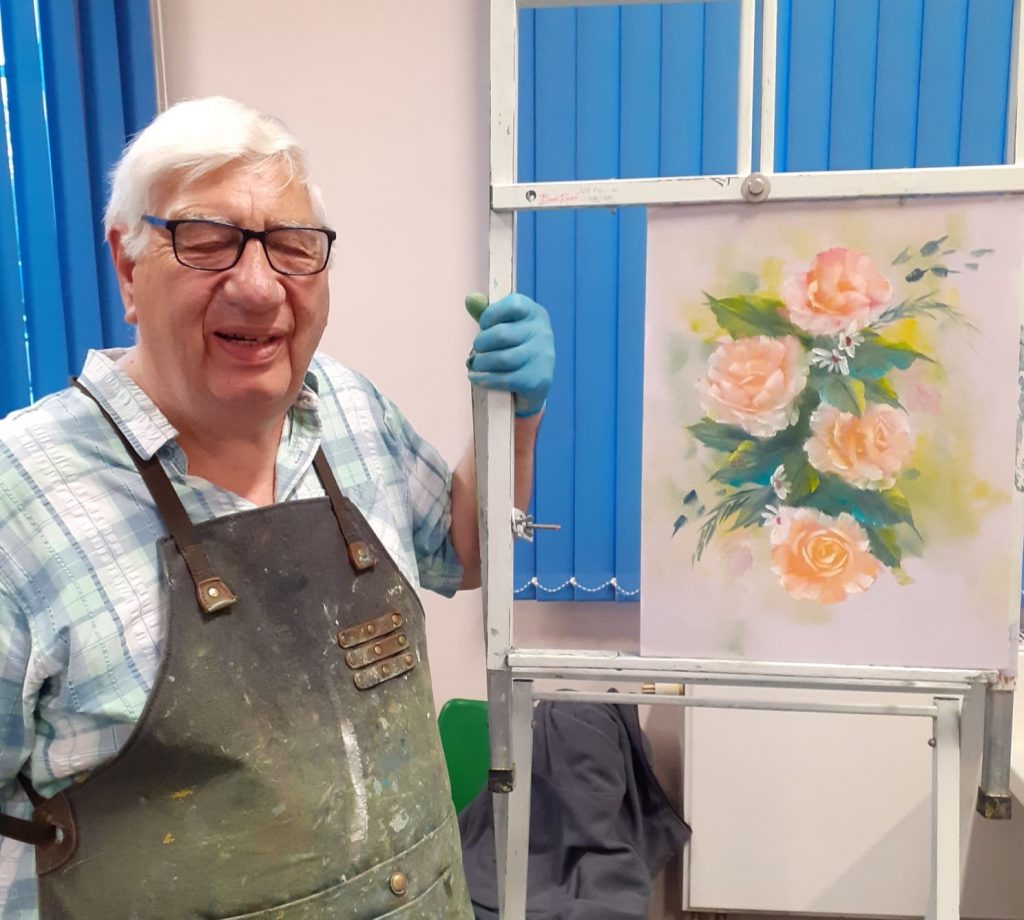 Our next meeting on 28 June will take the form of a critique of members' work by award-winning artist Maxine Dodd. Visitors are welcome. Meanwhile, the work displayed at the MHBS is by Hilary Willars in June and Janet Alderson-Smith in July.
Towards the end of May the Kibworth Art Lovers held their annual exhibition of original paintings at the 'garage gallery' on the High Street opposite the Co-op.
This was again well supported by more than 200 Kibworth residents over the three days and the public vote for favourite painting went to Marjorie Walter's 'Musicians'.
Jane Riseborough