Kibworth Art Lovers
At our March meeting, the Kibworth Art Lovers had the pleasure of welcoming watercolour artist, Janet Mayo, who demonstrated her work with several useful tips. Janet has a number of awards to her name, as well as being a member of the Nottingham Society of Artists. She has held many solo and joint exhibitions in various parts of the East Midlands. In addition, she is known as a former broadcaster, notably as a news presenter and journalist on BBC East Midlands Today. Janet now spends much of her time in Gozo, Malta, where she paints and sells her work.
Cottage in watercolour
For her demonstration, Janet chose to paint a cottage set in an atmospheric landscape. Her cotton watercolour paper had been stretched in preparation by double-soaking, and then taped to her board. Starting with the sky and using a large flat brush, Janet applied plenty of water to the area before adding a layer of strong colour made up of cobalt blue, rose madder and indigo. She allowed this to spread without brushwork, and achieved a smooth moody effect. The dark hills surrounding the white cottage were painted with a mix of cobalt and a touch each of rose madder, indigo and burnt sienna.
Different techniques demonstrated
The foreground of dry grasses was achieved using a dry brush to apply raw sienna. Janet demonstrated how a sponge can be used for a rough effect. A banker's card can be drawn over dark paint to create rocks. An ink pen outline enhanced the appearance of the cottage and Posca pens added texture to the foreground grasses. Our members enjoyed Janet's clear and confident presentation and greatly appreciated the finished work.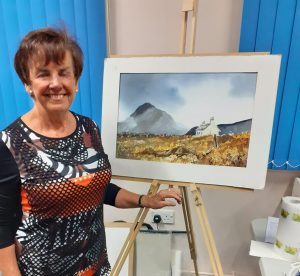 At our April meeting, artist Estelle Robinson will demonstrate portraiture in pastels. Visitors are welcome.
Meanwhile, paintings by Pat Porteous are on display at the Kibworth MHBS. These will be followed in May by works in glass by Gary Phillpott.
Jenny Riseborough