Important Heritage Assets
Within the Harborough District there is a wealth of nationally recognised heritage assets. There are 1,281 listed buildings, 6 historic parks and gardens, 65 scheduled monuments and 63 conservation areas. All of these are designated heritage assets and protected through national legislation.
In addition to these, Harborough District Council has now identified a list of local sites of interest, known as 'non-designated heritage assets', which are deemed worthy of protection due to their historic, architectural or archaeological interest.
Non-designated heritage
A non-designated heritage list is a way for the Council and communities to identify and celebrate historic buildings, archaeological sites and designed landscapes which enrich and enliven our area.
Once identified, assets are scored and if they meet the criteria, they are included on the Council's Local List of non-designated heritage assets which, as well as helping to preserve them for the future, can attract tourism, business and investment.
Last year, the HDC launched a public consultation asking people to nominate assets for inclusion in the list. Assets can also be identified through Conservation Area Appraisals or Neighbourhood Planning.
The following two have made it to the first list which will be reviewed annually
Home Farm, Bakehouse Lane, Saddington – This historic bakehouse which would have had an important role providing food for the local community.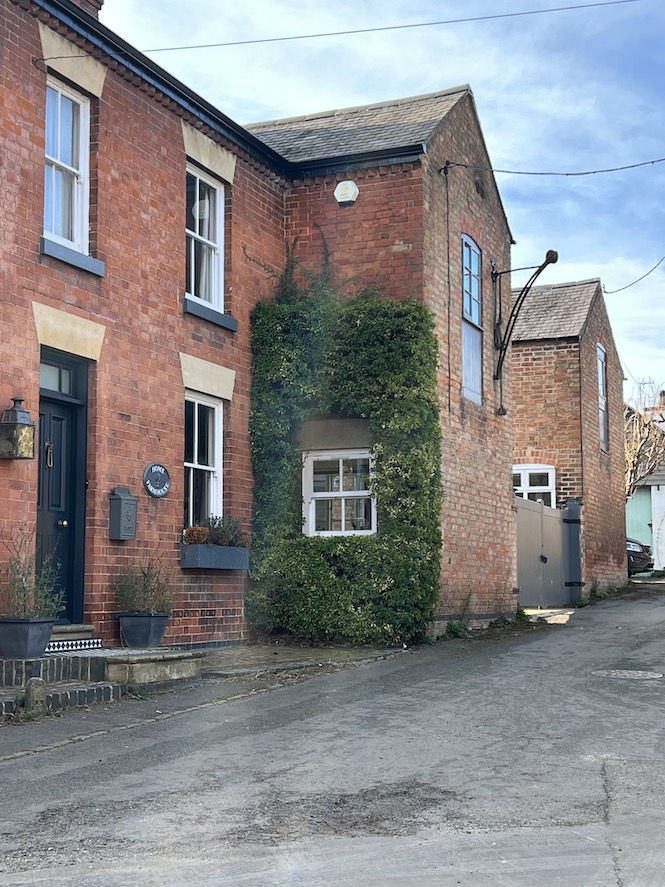 Historic Interest
In 1890 Mr Robert Gardiner built Home Farm and the bakehouse on the site of a malt house when baking was transferred from its original site on Bake House Lane to Home Farm. The original Goodwin & Barsby oven still remains, although not in its original position.
The teagle hoist, which was used for lifting grain into the building, is in good condition and sits in a prominent position and can be seen if walking the Leicestershire Round as the footpath that runs by the house.
Robert Gardiner was born in Kibworth in 1859. By 1881 he and his wife Jane were living in Bakehouse Lane and their three children were all born in Saddington.
In census returns Robert describes his occupation variously as baker, grazier and/or confectioner. His son, Thomas (1885-1969), became a grazier in Saddington and daughter, Bertha (1889-1973), was a music teacher in the village.
Associative interest
Home Farm, the Bakehouse and Harlain Cottage (Grade II listed) provide a structural relationship reflecting several centuries of continuity at the heart of the village. Several independent businesses operated from Bakehouse Lane, reflecting the pre-industrial period in which industries were cottage-based.
Pochin
Goodwin Barsby was founded (in partnership with Samuel Bailey Goodwin and others) by Robert Pochin in 1875. Original location was the St Margaret's Ironworks near the canal in Leicester.
The partnership dissolved in 1895 when Pochin bought out his partners to become sole owner. His sons, Robert and Harry continued the business after his death in 1906. After many takeovers and management buy-outs, the firm is still operating, now based in Coalville and manufacturing heavy-duty stone-crushing equipment.
Three Gates Farm, Melton Road, Illston on the Hill –
This traditional red-brick farmhouse from Late 18th/ Early 19th Century has Architectural Interest
Well-proportioned and detailed. Effective use of local red brick laid in Flemish bond, windows have been changed and new porch added but property retains symmetrical design, flat arch voussoirs, and chimneys. It is on a prominent road and junction, which adds to its significance.
Associative interest
Use of local materials.
Links to farming.
Important local landmark.
You can read more and view photos of all the heritage assets on the Council's website at:
https://www.harborough.gov.uk/news/article/1502/steps_taken_to_preserve_district_s_important_heritage_assets
SjP