Love is in the Spuds
I've heard of King Edwards but never St. Valentines
Over the years I have seen many pictures in the newspapers of oddly-shaped vegetables that have raised a smile. However, I never expected such a surprise when I opened a pre-packed bag of potatoes recently.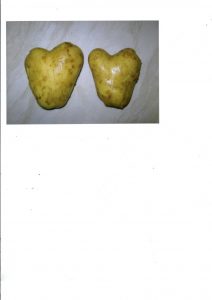 Whilst delving through them, I said to my wife that I had found the perfect Valentine's gift for her. As she turned towards me, I presented her with a heart-shaped potato.
Needless to say she was not very impressed. Later, when she returned the remaining vegetables to the rack, my wife confessed that she had a gift for me too. To my surprise there was a second potato, from the same bag, also shaped like a heart.
To find one is unusual, but to locate two with the same outline must be unique. So now we have the perfect gifts to exchange with no expense spared!
As I enjoyed my dinner that evening I couldn't help thinking that perhaps the saying is true.
'The way to a man's heart is through his stomach!'
Glyn Hatfield