Kibworth Band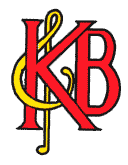 Preparations are going well as we head towards the "Area" Contest with most seats filled albeit some on a temporary basis and we are looking forward to a good result. Competition will be tough – we will be up against 15 other 1st Section bands from the North Midlands area.
Throughout the next few weeks "area" contests will take place in other areas of the country with the 1st and 2nd placed bands meeting in Cheltenham in September.
We are delighted that we have some young players with us. For Issac Grant and Tom Draper it will be their second "Area" but making their debut are Alex Tripp and Izzy Wilson. Alex has graduated from the Youth Band and Izzy has joined us from Fleckney Band
We are currently looking for a front row cornet player as well as both Eb and Bb Bass players. The later seem to be in very short supply, perhaps because of the size of the instruments to lift up and transport around!
For anyone interested, the contest takes place on Saturday 26 February and is at the Cube Theatre in Corby. Our section is likely to start around 2pm but before then the 2nd Section, which will include Harborough Band, will take the stage from 10am
Isabel Bingham