County Councillor for Gartree
This is the latest update from County Councillor for Gartree.
Covid-19: Local Case Numbers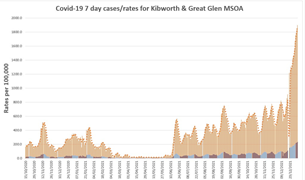 The graph shows daily Covid-19 case numbers and rates for the Great Glen/Kibworth area since mid-October 2020.
The figures have been increasing greatly like most other parts of the county. Daily infections are now at their highest point in fifteen months.
The case numbers were 235 over a seven day period in early January. This means a rate of over 1,900 per 100,000. Back in early June the rate was just 33 (four cases in seven days) and even lower in April and May. I really hope the numbers start decreasing soon.
Leicester's hospital intensive care beds mainly occupied by Covid-19 patients. Over 75% are unvaccinated. Hospitalisation and the need for intensive care is, fortunately, much lower than before vaccination started. Therefore, most importantly, the advice from public health to help prevent the spread and stay safe is:
keep a distance from others
wear face coverings where required
get your vaccine/booster when you're eligible
regularly test and self-isolate if required.
County Council Finances
The Council will discuss and agree the budget for 2022/23, as part of the four-year Medium Term Financial Strategy (MTFS) debate, in February. The County Council's income is funded primarily from three sources. Council tax (c. £330m), business rates (c. £69m) and specific government grants (c. £56m). Adult Social Care and Children's Services account for almost half of all income.
Moreover, growing demand for services is expected to increase costs by £88m. This includes:
Children & Family Services (£25m) to help with the rising number of 'looked after' children and growing social worker caseloads
Adult Social Care (£35m) to meet the costs of an ageing population with increasing care needs and a growing number of people identified with learning disabilities
Environment & Transport (£6m) to meet the higher costs for transporting more pupils with special educational needs and disabilities (SEND).
The Council's MTFS also sets out the need to save £100m by 2025/26. The Council needs to further identify more than £46m of savings. With these pressures in mind a County Council Tax element increase of 3% is being proposed. This includes a 1% social care levy and equates to £42.30 more for a band D property.
I would like to encourage residents to respond to the budget consultation process currently underway.
Go to: Consultation on Budget Proposals (2022-23) and Corporate Plan (2021-2031) – Consultation – Harborough District Council
Comments can be made until 6th February 2022.
Staff absences affecting some services
The County Council is warning that staff absences may affect some services. They have identified staff shortages at Recycling and Household waste sites. This might lead to some closures or reduced opening hours. The tips at Somerby and Bottesford near Melton Mowbray are temporarily closed.
Residents are encouraged to check the Council's website for details about opening times. In addition, other council services that might be affected include home to school transport and social care.
Arson of picnic bench in park
I have followed up with local police on progress in the arson of the picnic table and benches in the Warwick Park play area. Sadly, after checking various leads, they are not able to identify those involved without credible witnesses coming forward. The case however, remains open, but they now need somebody to come forward to be able to progress it further.
41.Jan.22