Grebes
April (display) through to August (young birds with adults) are the months when some of the best opportunities arise for photographing grebes.
Six species of grebe occur in the UK making this one of the smaller families. It is relatively easy to see five of the UK grebes. The two commonest species (great crested grebe and little grebe) can both be seen in Leicestershire and Rutland in all months of the year.
Three species (black-necked, Slavonian and red-necked) are mainly autumn and winter visitors in very small numbers. Black-necked have bred but only very occasionally. The sixth species, pied-billed grebe is a rare vagrant from North America. There is only one record locally; a bird that was at Rutland Water on 9 and 10 April 2014.
All our grebes have spectacular summer colours, excitable courtship displays and delightful striped chicks that seem to enjoy trips on the water. When they are very small they sit on their parents' backs hidden under their wing feathers.
Great crested grebe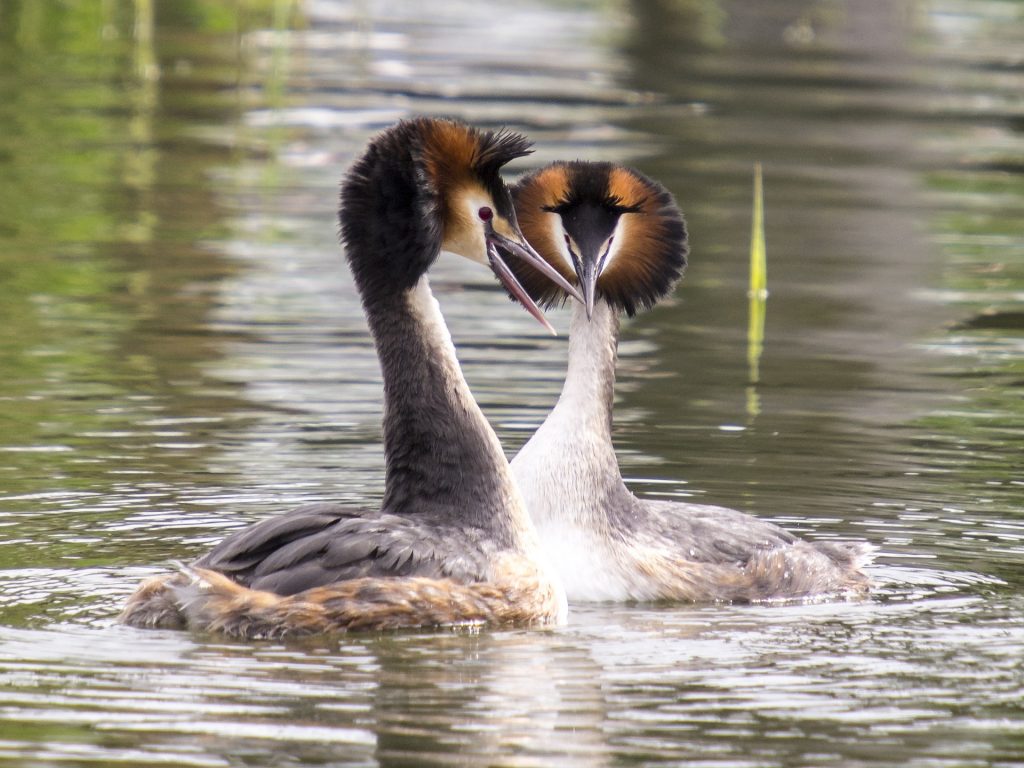 Great crested grebes can be seen on all large reservoirs and occasionally on smaller lakes. If you watch natural history programmes on television, you will at some time have seen the courtship display of pairs. This involves synchronised diving and one or both birds coming to the surface with a beak full of pondweed. There then follows vigorous head shaking often leading up to the birds swimming directly towards one another then "standing" on the water still head shaking.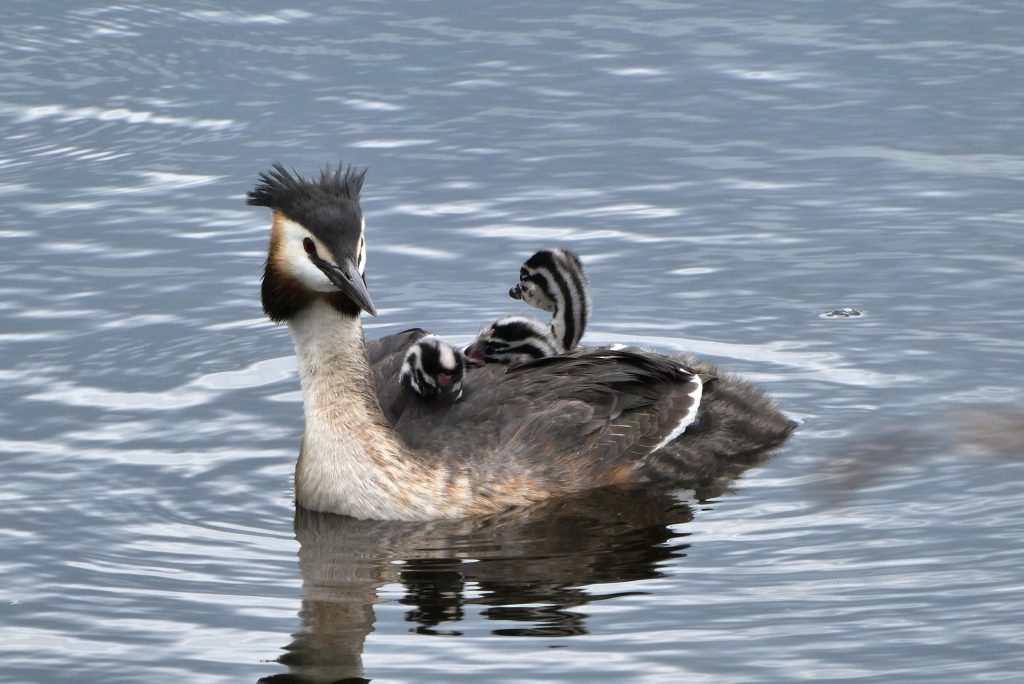 Once established as a pair a floating nest is constructed, often but not always, concealed amongst reeds. There are many obstacles to breeding success. A floating nest is reasonably safe from fox or badger predation but not from otters, mink and avian predators such as marsh harriers, gulls and crows. The chicks, once out of the nest, are also vulnerable to attacks from pike and trout.
If the predators don't get them the weather might! Grebe nests can be destroyed by very heavy rain or flash floods. Or just as easily by being left high and dry in drought periods.
Nevertheless persistence and the ability to produce second or third broods has lead to an overall population that is healthy and sustainable.
Saddington and Eyebrook Reservoirs are two places locally where you are almost guaranteed to see this species. Several of the hides at the Rutland Water Egleton Reserve provide excellent opportunities for close range photographs. However, numbers in hides are currently restricted because of Covid 19. It is not acceptable to stay in hides for long periods of time if others are waiting to use them.
Little grebe (dabchick)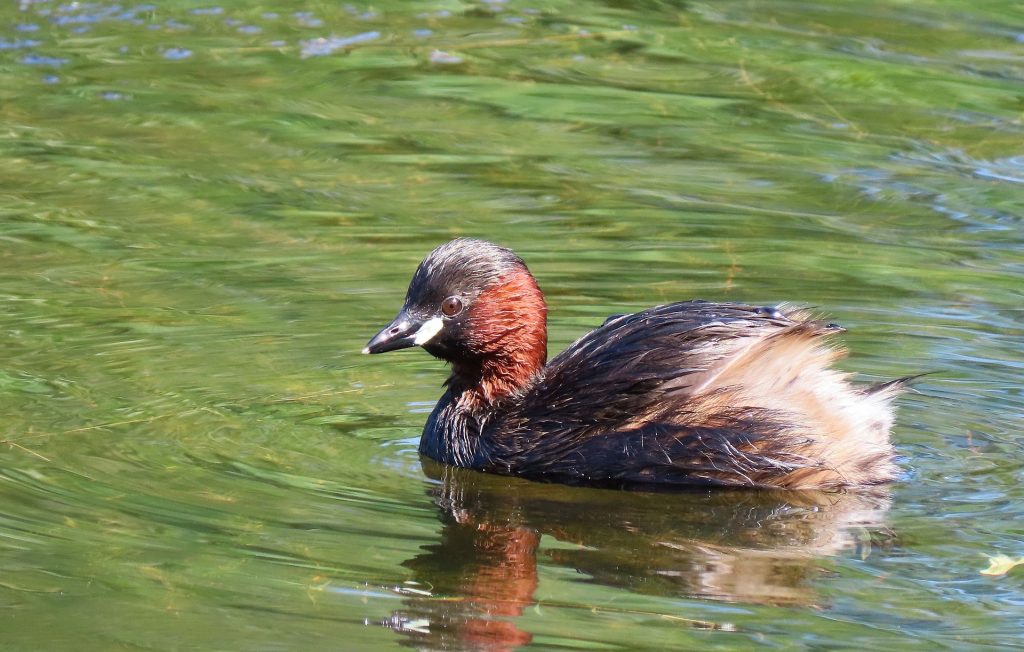 Being significantly smaller than great crested grebes, little grebes can be more difficult to find and watch. However, they are relatively common and often occur and breed on smaller lakes and ponds than their larger relation. In winter you can see groups of little grebes feeding in open water situations.
In the breeding season they spend a significant proportion of each day inside reedbeds and other aquatic vegetation. They often only giving away their presence by their loud "trilling" contact and display call.
Much of the summer plumage is bright chestnut and black with a contrasting creamy yellow patch at the base of the bill. If you manage to find a bird with your camera or optics it is quite easy to then lose it from sight.
The birds have an effective defence mechanism. They can dive but instead of bobbing up to the surface they stay submerged with the tip of their bill only out of the water, to facilitate breathing. Even in light reed cover this gives the impression that the bird has simply vanished or been grabbed by a passing pike.
Once you are fully familiar with these two species of grebe you will want to see black-necked, red-necked and Slavonian grebes in their stunning summer plumages. You may even want to meet the challenge of identifying them in their, at times confusing, winter monochrome dress.
David Scott