Kibworth and Smeeton W.I. – May 2021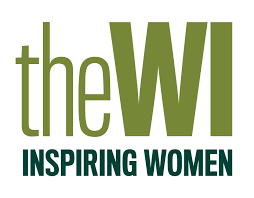 The W.I. is still associated in many peoples' minds with, ' jam, cakes and Jerusalem!' These may be an enjoyable part of most of our meetings, but there is so much more to us. In addition to our meetings, with a variety of speakers and activities, the W.I. is a campaigning force.
For more than 100 years important, and sometimes controversial, issues have been brought into the public domain. This has often led to changes in legislation and government policy. https://www.thewi.org.uk/campaigns/100-years-of-wi-campaigns
Change makers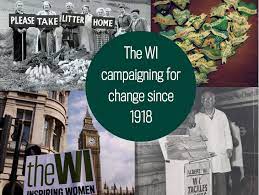 Each year W.I. members put forward issues for the National Federation of W.I.s to campaign on. These 'resolutions' are debated and shortlisted in a year-long process, with members voting on the one they support the most.
In May we usually hold our Resolutions Meeting, when two committee members give a presentation about the final shortlisted resolutions. This enables members to learn more about the issues, debate them and decide how we should vote in the summer. This year, with no meetings, everything had to be done online and through our County and NFWI magazines and mailings.
When a resolution is passed it becomes a mandate. This is a basis for campaigning and raising awareness, locally and nationally.
The resolution finally being proposed in 2021 is, 'A call to increase awareness of the subtle signs of ovarian cancer.' The campaign will aim to ensure that the public know what to look for, facilitating early diagnosis and treatment. The following are just a few examples of past campaigns.
Historic resolutions
In 1918 the first resolution called for 'a sufficient supply of convenient and sanitary housing.' In the 1920s we emphasised the importance of women jurors and magistrates, and called for more women in the police.
Some campaigns take time to achieve results. With the W.I.'s rural roots, protection of the countryside has always been important. In 1954, campaigning to protect it from 'desecration by litter' eventually led to the 'Keep Britain Tidy' movement.
In 1964 a resolution called for measures 'to restrict the amount of smoking in public places,' including on television broadcasts. Twenty years later, smoking was banned on public transport and subsequently in other public places.
One modern day concern is plastic pollution, with laws now coming into force to ban various single-use plastics. The W.I. has been raising awareness of the impact of plastics on the environment since the 1960s and 70s.
The 'Care Not Custody' campaign stemmed from a W.I. member's own tragic experience. Her son, who had mental health problems, ended his life in prison.
With the Prison Reform Trust, the W.I. worked for more appropriate treatment for people with mental health issues or learning difficulties. The W.I. is proud of its history of campaigning on important matters.
In common with other groups, many of our members have joined activities and meetings available to them on Zoom. With more easing of restrictions on the horizon, we look forward to the day we can all meet again.
Pat Sharman