William Hanbury–a digital persona for St Peter's Church, Church Langton.
The last twelve months have been strange to say the least, but that hasn't prevented the team at St Peter's Church Church Langton from engaging in a new and exciting project.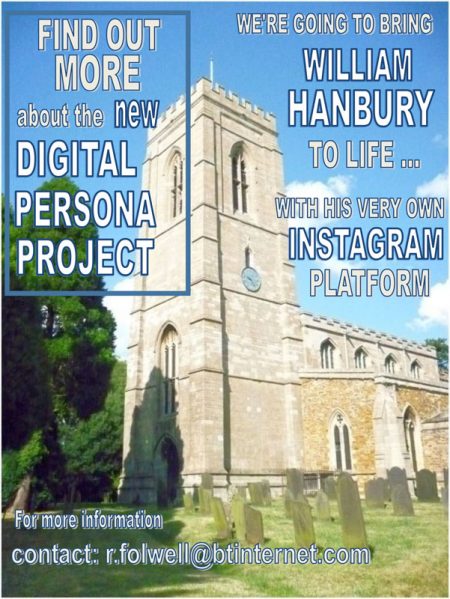 Digital Persona.
Roz Folwell and Mark Cox have been working with staff from the Documentary Media Centre and young people from the Y Heritage 'Kick the Dust' project on their new 'Digital Persona' project.
The Digital Persona project is currently working with a range of museum and heritage locations across Leicestershire. The project helps to bring objects, artefacts and visitor attractions to life by designing and developing a digital personality. 
William Hanbury "brought to life!".
Working with young people aged 16-25 to become 'Digital Curators', St Peters church is looking forward to bringing 'William Hanbury' to life through a new social media platform. This platform will share historical insights from the village's history, run competitions, for the local community and schools to engage with and compliment a wealth of local events, festivals and activities. This creative effort aims to dynamically engage visitors and to enhance the visitor experience of both physical and digital visitors to the parish. 
Engaging young people in Heritage.
"Projects like Digital Personas are a real creative and engaging way of involving young people in Heritage, and providing venues alternatives methods of engaging audiences and enhancing their digital offer". Tina Barton, Director of Education and Engagement at the Documentary Media Centre.
The Digital Persona project offers young people hands on 'Digital Curator' roles, enabling them to develop news skills and experiences and transferable relevant skills.
"I'm so happy to have found the Digital Persona project, I'm excited to be helping by sharing my digital skills and bringing to life a part of the local history of the area through a new digital platform…. its going to be fun!". (Young Person)
Make contact.
Anyone interested in finding out more about the new project and ways for members of the community to get involved contact:
Tina Barton – docmediacentre@gmail.com or
Roz Folwell – r.folwell@btinternet.com
We're looking forward to sharing more details of the project as it develops, and hope you enjoy engaging with our William Hanbury Digital Persona when we launch in the coming weeks!