Leicestershire and District Ramblers – April21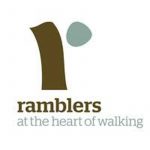 As our name suggests we are the "go to" Ramblers group for the City of Leicester and its outlying conurbations radiating out to maybe a dozen miles from the centre.
Beyond this other local Ramblers groups operate in the larger market towns around the county.
Like all recreational pursuits and sports we have been effectively grounded since spring last year. Aside from a brief hiatus in high summer where we were able to offer a limited programme before COVID-19 started to accelerate again in the autumn.
Now with the Government expressing some confidence in a return to near normality hopefully by May/June. It's maybe a good time to share with your readers the wide range of walking opportunities that we will be looking to reintroduce when allowed.
What has struck many of our members when they have been walking, either solo or with one other person as permitted in guidelines, is the growing number of people.
So many perhaps new to regular outings, who have been getting out. As walking is, where protocols are observed, one of the very few readily available forms of exercise possible.
You may yourself be reading this now and recalling some of the new places, local yes but maybe a little off the beaten track that you have enjoyed and it's lit up your curiosity!
Here at Leicester and District Ramblers we are very welcoming of newcomers.
If you book in with us you can certainly try us out two or maybe three times before you would be invited to sign up with a very modest annual membership. This means you are not merely able to walk with ourselves but with all Ramblers group within the UK!
Once we do start you will find that we walk five days a week as follows: –
Tuesdays, Thursdays and Saturdays
A short morning walk, up to 6 miles with optional lunch (once Pubs reopen under guidelines).
Thursday All Day Walks
Up to 13 miles, usually with optional pub meal as per above.
Saturdays – All Day Walks
Once restrictions upon local travel are lifted these will resume in The Derbyshire Dales and Peak District, Staffordshire and The Cotswolds.
Sunday All Day Walks
Up to 13 miles and all within Leicestershire, there is usually an option to "retire" to a Pub/Coffee Shop at lunch. Again when government guidelines permit!
 Monthly Sunday "Coach Rambles"
These are generally on the third Sunday of the month and offers a full day out! We leave from The Premier Inn Braunstone at 8am and depending upon the season will travel for up to two hours, in recent years our furthest excursions have been to Ross on Wye, Church Stretton and The Chilterns.
There is a full roast or vegetarian Sunday Lunch taken at the conclusion of the walks. There are three walks of varying distances tailored to all grades of walkers. Our coach will return us content and replenished late on Sunday evening.
Whilst we still have to wait at least a couple of months for restrictions to lift, we are positively excited with the expectation of our 2021 programme getting, if a little belatedly, under way!
If you would like any more information about any aspect of our activities or indeed are interested in joining one or another of our future walks please drop a line to myself Dave Wheeler, Publicity Secretary, Leicester & District Ramblers at: David_wheeler320@hotmail.com