The arrival of March
Have you noticed whilst walking locally or driving that many of the hedgerows in South Leicestershire have, over these last winter months, been neatly manicured or in the case of the hedge around the new houses adjacent to the Wistow Road simply flailed.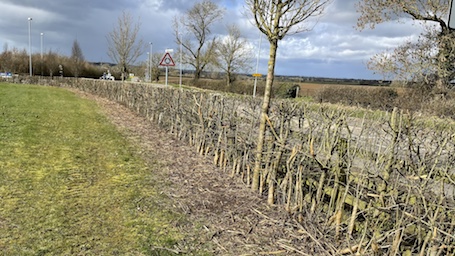 As we all know hedgerows in Britain are protected. This is because they provide a vital resource for mammals, birds and insect species. This biodiversity is important. Farmers are not allowed to alter their hedges between 1 March and 31 August whilst birds are nesting.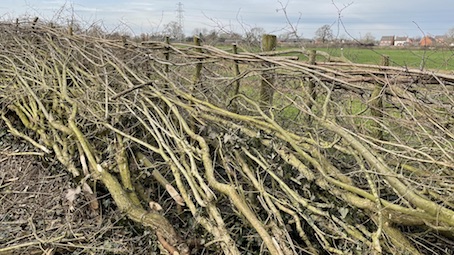 Therefore, is it not great to witness the expert hedge laying now visible on Mill Lane, Smeeton Westerby which has been painstaking carried out by the Vickers family over the winter months?
Did you know hedgelaying is a traditional country craft. It goes back many centuries and is particular to the British and Irish countryside. Wikipedia informs us the first description of hedgelaying is in Julius Caesar's Commentaries on the Gallic War. His army was inconvenienced by thick woven hedges during the Battle of the Sabis in Belgium.
The advantages for hedge laying include:
livestock-proof barriers;
habitat for many species of wildlife;
rejuvenation of existing hedgerows by encouraging them to put on new growth and thus helping to improve their overall structure and strength;
weather protection for crops and wildlife and aesthetically pleasing screens to fields and gardens.
It takes time and no little skill to execute this pleasing craft. The National Hedgelaying Society is the only charity dedicated to maintaining the traditional skills of hedgelaying and encouraging the sympathetic management of hedgerows for wildlife and landscape.