John Collins
8 September 1942 – 14 December 2020.
John and Rosemary and I, then a toddler, moved to Kibworth in the late 70s from Coalville, and John became known as the 'Man from the Pru'.
A popular caller.
John looked after many of the locals in Kibworth and surrounding villages for years with their insurance becoming good friends with lots of his customers. Rosemary remembers him coming home with a trout, duck eggs and Greek Coffee to name but a few gifts.
Tennis and helping at Wimbledon.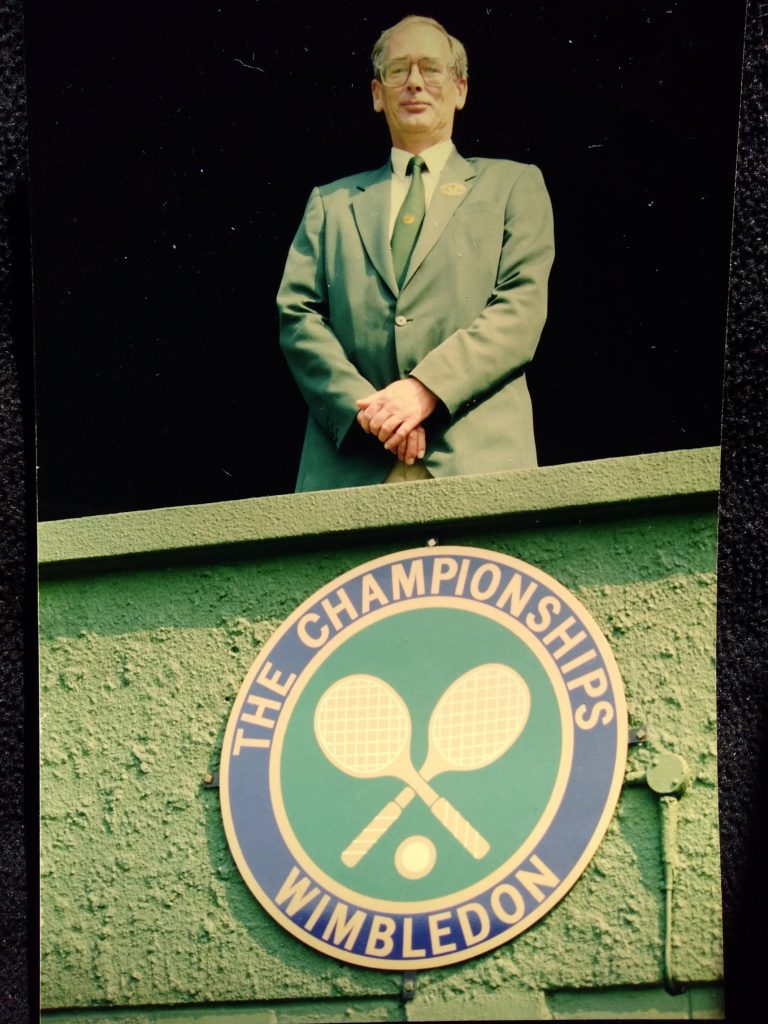 Not only was John the 'Pru Man', but he also, in time, became the President of the Kibworth Tennis Club for a number of years, being instrumental in building the 'bottom courts'. During this time he trained as a tennis umpire, which took him down to Wimbledon to work as a line judge with two of his friends – Alan Gray and Stewart Reynolds. A period of his life he became very proud of.
Am-dram.
As a youngster my father had a passion for amateur dramatics. Well known for his GSOH he then joined the Kibworth 'Am-dram' company, enjoying his time on the stage and dressing up! This suited his larger than life character.
Still enjoying sport.
Being a man of 'generous height' John began to suffer with arthritic hips in his 50s. Years of summers spent playing cricket and the long spells of fast bowling had taken a toll. Retiring from sport was not an option and they (his hips) took him down the path of the Kibworth Bowls Club, where again he took on the role of President.
John had a passion for golf too and he continued to play this for as long as he could at the Kibworth Golf Club.
My parents eventually moved to Market Harborough in the early 2000s. The theme of 'joining clubs' continued – Harborough bowls, the local walking group, golf and the Jubilee Food Bank with the last of these being the u3A ukelele band. During this time John also worked at the Harborough Building Society and as a driver for the NHS delivering their post and picking up samples.
Helping Others.
As you can image, John knew many folk around the Kibworth and Harborough areas. As a result a walk down the High Street was not a quick affair, as he thoroughly enjoyed bumping into and chatting to the locals he knew.
A Fitting Departure.
My father's physical and mental health did start to suffer in the last couple of years and eventually he was diagnosed with Mixed Dementia in June 2020.
He had been a very active man throughout his life in work and play and therefore did not wish to be anything that was slightly 'under par'. John deteriorated quickly, spending the last eight weeks of his life in Peaker Park Care Home. He maintained his sense of humour until the end. My mother, Rosemary and I, due to the restrictions had not been allowed to visit, but we were allowed to be with him as he peacefully passed away to BBC's Live Sports.
A gentle and yet fitting departure for a very active and talented man.
RIP Dad.
Aileen Collins.