In the Spotlight: Louise Faye
Louise Faye provides her excellent hair and beauty services delivered from her salon, Louise Faye Hairdressing, in Kibworth Harcourt.
Here's what she has to say about her background:
Northern Roots.
"I'm incredibly proud of my northern roots. Redcar is home. When I was born it was in the North Riding of Yorkshire but now it's in Cleveland. Redcar is in the heart of the Industrial North East, home of the 'famous' lemon top ice cream and close to Middlesbrough and the River Tees, Chris Rea's Steel River.
Dad was a River Tees Pilot and I was very fortunate to be brought up in a house that had uninterrupted views of the North Sea. Mum still lives there, on the Coast Road.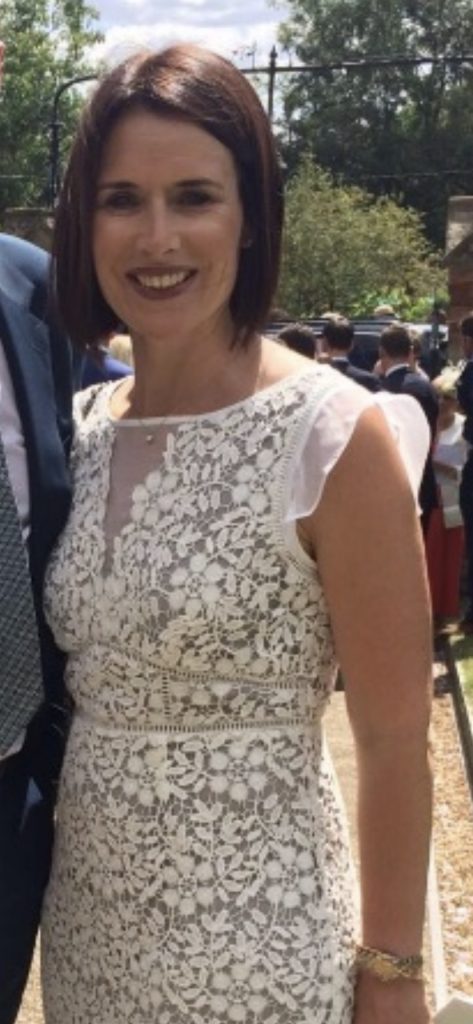 I went to the local Primary School and was then sent to St Hilda's Boarding School in Whitby where I made some lifelong friends.
Training.
I left school and did my hairdressing training at Kirby College in Middlesbrough. I loved it from day one, and when my training was completed, I went to work in a large Salon in Middlesbrough town centre. The early 1980s were amazing, the Salon was always so busy and after working very hard all week we would all go clubbing at the weekends.
I've worked in the salon in Kibworth for 17 years and have owned it since 2012, though recently I have gone into partnership with Andrew Minarik.
I met my husband Michael in Saltburn when I was 18 and we were married in 1987, and moved to Smeeton Westerby 23 years ago. We have two sons, John and Charlie, who I look at in wonder and can't believe they belong to me and we also have Dolly the dog, a complete diva."
Q. What is your earliest memory?
A. I remember Dad taking us to see The Royal Yacht Britannia being sailed out of the Tees and My Uncle Bill being the river Pilot on board.
Q. What did you want to be when you were growing up?
A. I don't remember aspiring to be anything really when I grew up, I wanted to be able to whistle like my brother and ride my bike without holding onto the handle bars.
Q. Do you have a favourite book/film/ play and why do you like it?
A. I have two books that I love, both by Sebastian Faulks, Birdsong and Charlotte Grey, such emotional and vivid writing. I found both of these books very thought provoking and 'how brave to go into the unknown to rescue a man she hardly knew!'
Q. What was your most embarrassing moment?
A. As a child being sick all over the men's changing rooms at Redcar swimming baths after performing the most magnificent belly flop!
Q. What has helped you cope during lockdowns?
A. Running! I love running the canals and XC running and taking part in the virtual challenges organised by the Fleckney and Kibworth RC, they are great fun and make me feel energised.
Q. What makes you angry?
A. Going up to bed and forgetting you stripped it that morning!!
Q. What makes you laugh?
A. Lots of things make me laugh, but Dolly makes us all laugh most days.
Q. What do you like – (a) very much and, (b) not so much – about living in this area?
A. (a) I love living here and feel very fortunate to have all this beautiful countryside on my doorstep.
(b) I just wish I could get out onto the A6 on a morning.
Q. What sort of Christmas do you and your family like to have?
A. We like a family Christmas with all the trimmings! The boys will be home and as long as we've got plenty of 'pigs in blankets' and don't have to play Scrabble we will be very content.
Q. Who would you invite to a dream dinner party?
A. Captain Scarlett, he was my first crush, the strong silent type! Steve McQueen, he was my first love. Victoria Beckham, in the hope she would lend me a dress! I admire her, I think she's talented, fun and gets a bad press. Graham Norton to get the party started. Joanna Lumley to keep the party going. Ronnie Corbett to tell a funny story at the end!
Q. Who would play you in a film of your life?
A. Gina McKee. We are about the same age and are both from the North East
Q. What are your main hopes for the year 2021?
A. We beat this virus and life returns to some sort of normality.
Interview by Carol Townend