Mowsley Commemorates VE Day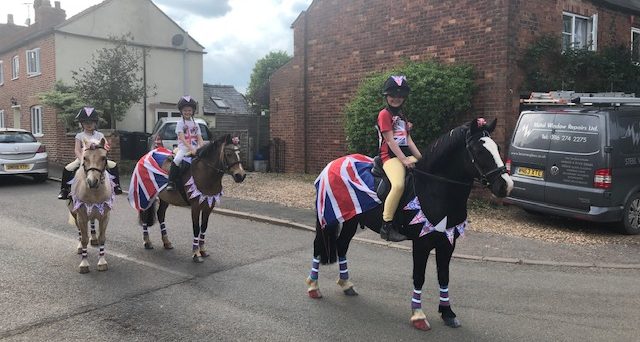 In the past Mowsley residents have hurled themselves into commemorating or celebrating national events of great importance.
Sometimes the very long table with its Union Jack design cloth has been set up in the Nook, and at other times on the cricket field by kind permission of the Laughton and Mowsley Cricket Club.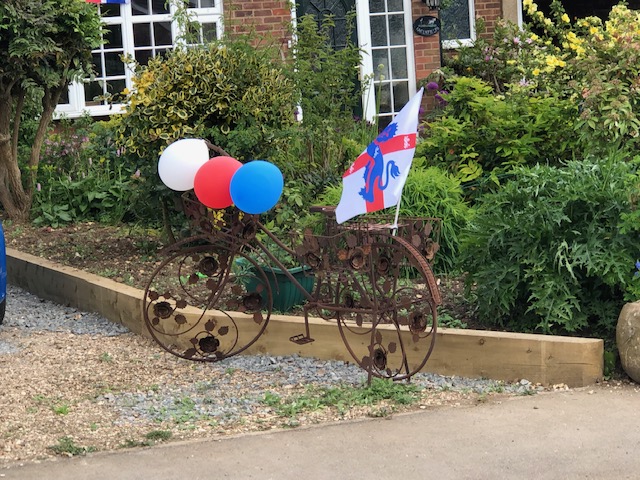 The weather has largely been kind and warmed up the picnickers, dogs and owners in the Dog Show and the runners in the expected rounders match. Later the doors have had to be kept open to cool the dancers cavorting in the village hall.
This year the only thing that was the same, apart from the red, white and blue bunting adorning the houses, was the weather! Another glorious day! Social gatherings were quite rightly banned.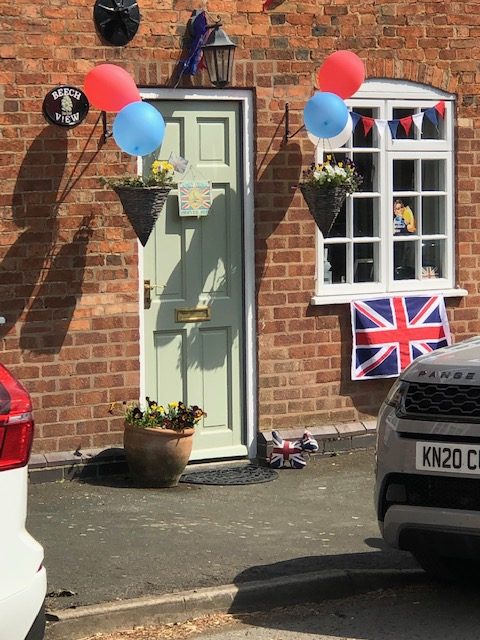 Villagers however could still decorate their houses and the village hall (two people at different times). One household persuaded Winston Churchill to appear whilst Vera Lynn singing "We'll meet again" serenaded him!
There was a timetable of events suggested by the Royal British Legion and we in Mowsley added one more, carefully thought through so as not to break social distancing guidelines.
At 11am the two minutes silence was held. You could hear people enjoying coffee in their gardens, suddenly go quiet.
At 3pm many villages walked down to their usual Thursday evening 'clapping' places on the streets, and as the church clock struck, we raised our glasses whilst saying the words of the toast circulated by the British Legion.
At 5 pm we were back in those places to see three smiling little girls from the same household doing the usual daily exercising of their ponies. One difference. On Friday May 8th both riders and mounts were dressed in red, white and blue. They were given a grateful round of applause and the odd cheer or two. Spread out as we were along our linear village, each household two metres from each other, we could hear their progress as the clapping began and died away.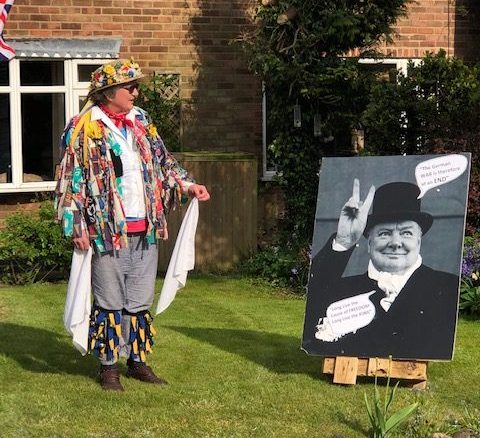 Feedback was good. As a village we were glad we had not let the day go by unremarked. Older villagers say they recalled VE Day itself and felt almost as emotional this year. Another memorable VE Day for them and us.
RO