Dear Editor – Round and Roundabout – Nov '23
Dear Editor,
Round and Roundabout
I would like to say how much I appreciate the re-working and wonderful improvements to the roundabout in the middle of Kibworth. Quite apart from the vastly improved appearance, it is now much safer. Drivers are able to see all the way round, rather than contending with the obstructions of untidy bushes. A huge thank you to those responsible.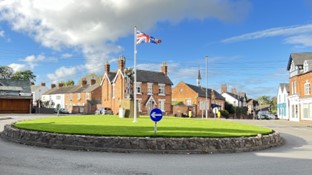 The fascinating new challenge must be how to access the new lawn for mowing. So far as I am aware, we don't have a resident traffic warden, or a copious supply of cones and red barriers to block the traffic, giving the gardener the access needed to get the mower on to the island. Perhaps the answer is to ask one of our public-spirited local farmers if he might be willing to lend a sheep, which could be airlifted in by drone!!
Keith Jackson