English Men's Champion Club Winners 2023
KGC players, Ollie Lewis, Richard Wale and Jamie Watson shot a combined +10 over the Ealing GC course at the two-day event to edge Castle Royle and take the title of Men's UK Club Champions.
Lewis' 69 and Wale's 67 helped give them a one-shot lead at the end of day one, with both eagling the 7th thanks to 200yard shots onto the green and holing putts. Wale's front-nine 30 aided his round which included six birdies to add to the eagle, while Lew-is enjoyed four to add to his eagle.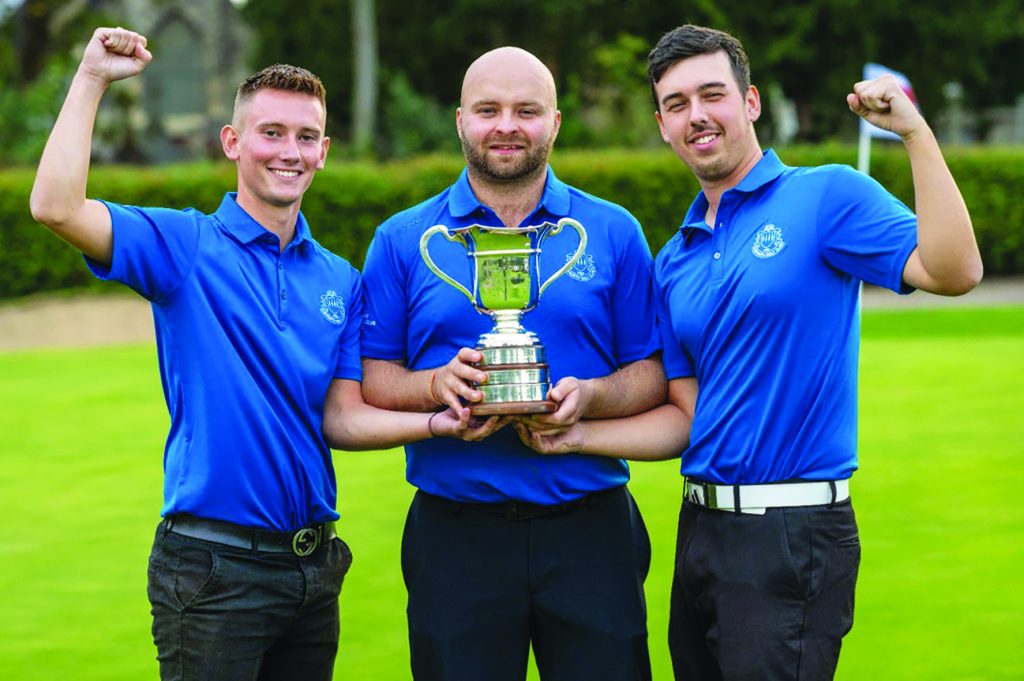 On the second day, a combined 12-over front-nine saw them slip down the leader board. A sublime back-nine from all three players, however, saw them fire a combined -2, with Lewis adding another crucial eagle, Wale driving just shy of the 17th before chipping close for birdie, and green keeper Watson making a fantastic up-and-down on the 18th.
What followed was a nervous wait as Lewis admitted, "We were an hour or so ahead of Castle Royle so it looked like we were way behind on the leader board but they had a lot of holes to play. Just to take our minds off things, we were playing snooker while we were waiting for the last groups to come in! We were always checking the scores but I kept telling the others that I knew we were still in it."
Lewis added, "We got there thanks to a magnificent -10 score for Rich in our County Championships. Jamie was -2 under for the two rounds and I was level-par, so as a team we shot -12 to win by eight shots. It was the first time the club has ever won that and to do it by such a margin was pretty special. For us to then go and win the na-tional event is pretty surreal.
We have a very good team in the three of us and we didn't go to the national event expecting, we just went to do the best we could. The way all of us played the back-nine was important, especially Jamie who had difficulty on the front-nine, but recov-ered really well. All those shots add up to the crucial score and that's what won it." The trio led by just a single-shot margin after day one and 22-year-old Lewis admitted, "The evidence was there that we could be one of the top teams, so it was just about doing what we knew we could, focusing on each of our individual games and that it'd all add up at the end."
The next round is the European Championships which take place in Portugal at the end of October.
Wendy Quilter