That's how the game should be played
Richard Clarke aka 'The Grumbler'
We are told the future of cricket is city franchises. Like Brigadoon, the fabled Scottish village that appears every hundred years, they emerge each season pulsating with artificial colours, canned music and manufactured fun. Then, having achieved maximum monetisation in minimal time at major venues, they revert to the form they take for the other eleven months of the year – a WhatsApp group. At the other end of the permanence scale is Kibworth CC, who played host to the first county game in its 110-year history on Tuesday. This district of Harborough in Leicestershire comprises Kibworth Beauchamp (population 5,433) and Kibworth Harcourt (population 990). It is a place so typical of rural England that in 2010 a BBC history documentary told the story of our entire nation using the narrative arc of Kibworth's development. In recent years, its growth has been a double-edged sword. As Kibworth's Wikipedia page stated, 'new housing continues to be built, causing periodic controversy.' But it remains a village in feel and outlook if not population.
"We used to play on a pitch right next door," said Kibworth CC chairman Geoffrey Page-Morris. "But now that is housing. It was developed by David Wilson Homes 20 years ago in exchange for them creating these two pitches and a clubhouse. "We have had Leicestershire 2nd XI games for the past six or seven seasons and we have been working on holding a first-team game for a few years now. At the start of this season, we spoke to Sean Jarvis and Claude Henderson [Leicestershire's CEO and director of cricket] and said we could do it."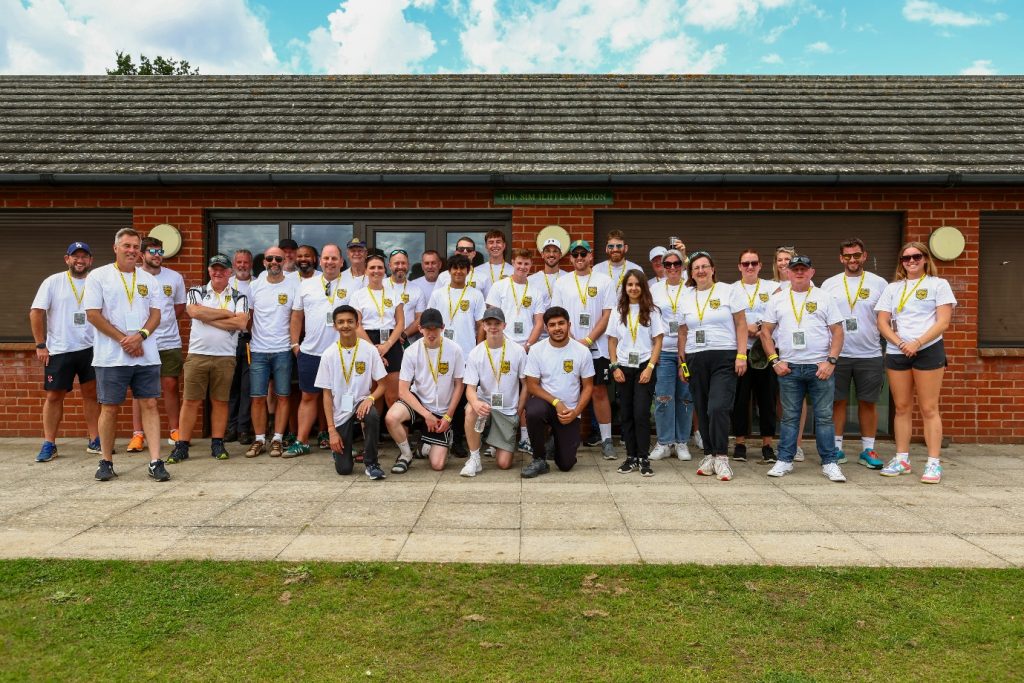 The end result was a day of English county cricket at its most local. The club created a few hundred parking spaces but, according to Page-Morris "half the crowd walked here". The impressive pavilion is the centre of village life all-year round so the residents were always going to turn up on their big day. Kibworth had advertised that only 150 chairs were available so fans should bring their own. For safety reasons, the crowd dutifully lined them up a few yards back from the boundary rope, which also created a useful pathway for the dog walkers and pram pushers on their circumnavigations of the pitch throughout the afternoon.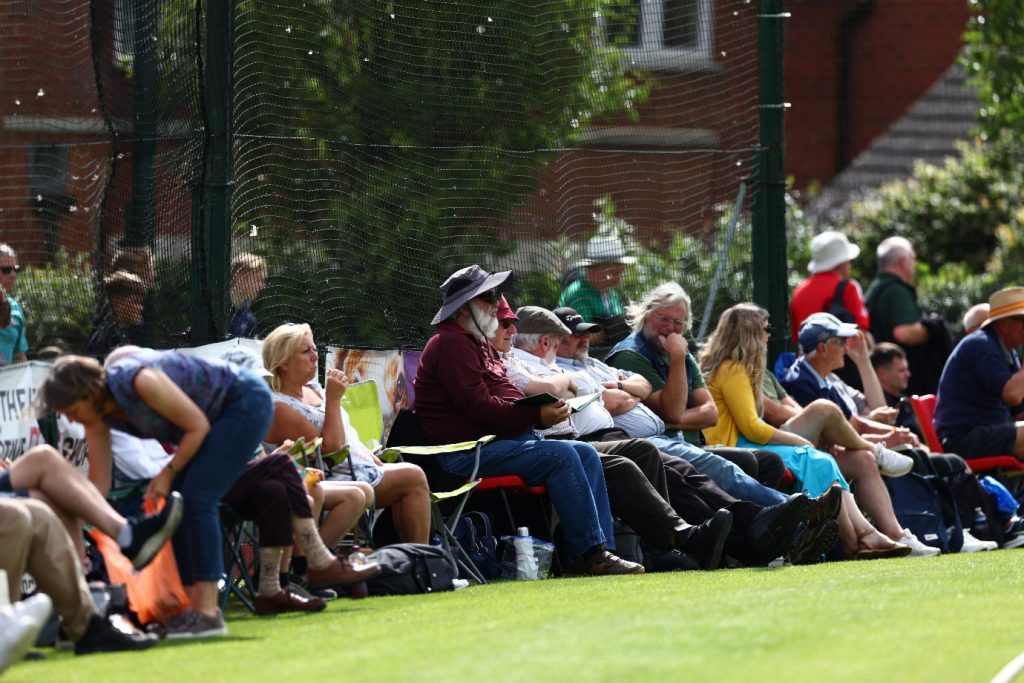 "We were keen to make it a festival of cricket," said Page- Morris. "Putting up stands takes away a bit of the atmosphere and we were focused on that. We asked visitors to bring their own chairs because that creates its own feel. You are part of a game not just an onlooker to it. The crowd become integral and so there is a lovely buzz."
That word has a different connotation depending on the type of game you watch at this time of year. The Hundred is ready-meal cricket put in the microwave with excitement and entertainment artificially charged into every molecule. In comparison, the buzz of Metro Bank One-Day Cup games at outgrounds such as Kibworth is created by cricket slow-cooked on a low heat. And, not to stretch the analogy too far, perhaps that is why the full flavour of the game floods out.
Looking out from the press tent, there was a constant parade of people going one way and the other with, depending on the time of day, beers, coffee, ice cream and more solid sustenance. Street food from all over the world clearly went down in this most English of fields.
Just after Beau Webster stroked a boundary through the covers as Essex recovered from the loss of early wickets, a man from the mighty Friends of Grace Road with a dogged sales pitch and untameable sideburns tried to flog lottery tickets. A family crowd ticked every diversity box the game is targeting right now. Though admittedly social class is never clearly visible. And perhaps the novelty of the game or venue meant that virtually no one got on the pitch to play at the break. Then again, the adjoining second field allowed youngsters to enjoy their own games throughout. After Sol Budinger's first-ever century put Leicestershire in command in their reply, Essex took a rattle of late wickets to threaten a comeback.
However, a dozen teenagers were oblivious to the rising tension and instead found their fun inside a net on the other pitch, crowding a batter whose job was to survive of a bout of square-turning off-spin. They were youth players from Kibworth CC, who formed an army of volunteers on the day. Earlier, one of them had pointed out Josh Cobb, developed at Leicestershire and now at Northamptonshire, in the Kibworth team groups on the wall of the second pavilion that doubled as a coffee station for both volunteers and media. He added I should come back and cover him when he makes it. As I left for the press tent, we verbally agreed I would ghost his autobiography if he did. Five minutes later, Cobb turned up to say hello to friends. It was that sort of day. One where that face you kind of recognise sitting next to you might be a player or that neighbour you sometimes see in the village shop. And, but for that respectful gap, you could reach out and touch a boundary fielder.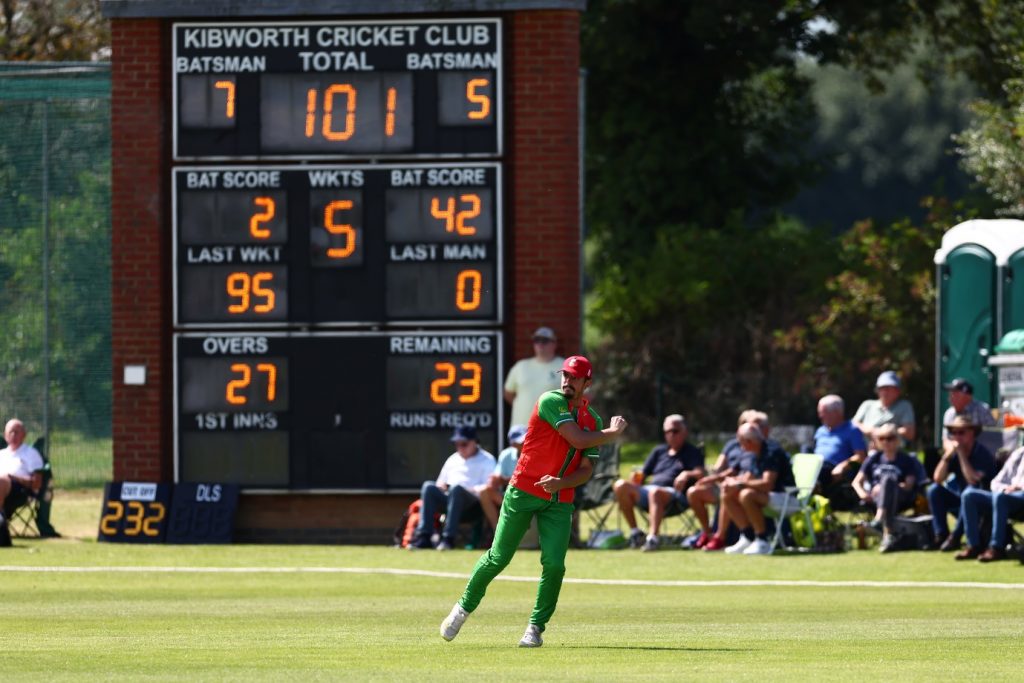 The official attendance was 1,066, just over Kibworth's target, and Leicestershire will be back for two more seasons. The club have ensured the under-19s women's tournament this weekend is being played on the same strip. Apparently, they are excited about playing "where the professionals play". They should be. There is nothing like local cricket for making a direct connection and laying the foundations for the future of the game.