Smeeton Westerby Rectory – Revisited
In June I submitted an article to the Chronicle regarding Smeeton Westerby rectory and its residents. Since then I have acquired a letter, dated 22 July 1902, sent to the Rev Sale at the Rectory from the Rev Ambrose Pudsey Dawson, who was the last of the clerical heads and remained as headmaster of Kibworth Grammar School. His term of office was from 1889 until he resigned in 1906, in order to move to the village of Harston, which is close to Belvoir Castle. During his time in Kibworth he lived in School House and it is from here that this letter is written. A copy of it is shown here but due to its poor condition I decided to transcribe the handwritten message for additional clarity
It would appear that the Rev Dawson intended to assist Rev Sale on Sunday, no doubt for the church service, but due to his bad cold he pointed out that he wouldn't be of much use. However, he was prepared to entertain a visitor or possible locum vicar by the name of Mr Holt.
It is interesting to note that this letter was written 121 years ago between the proposed date (26 June) and the actual date (9 August) of King Edward VII's Coronation in 1902 – the former being cancelled due to the emergency appendectomy carried out on the new king.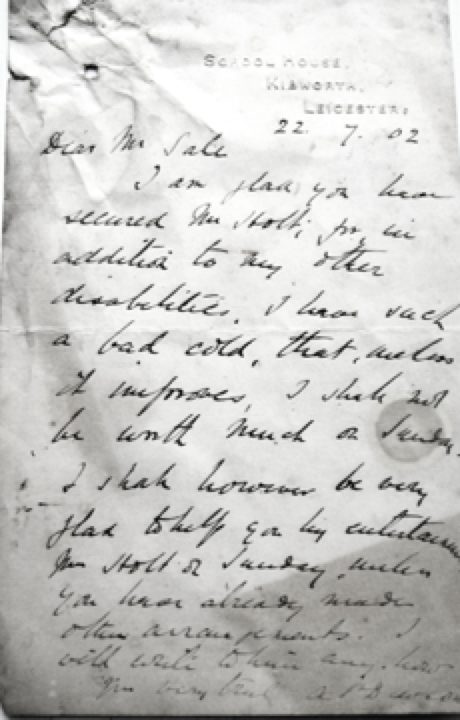 It reads as follows:-
School House
Kibworth
Leicester
22-07-1902
Dear Mr Sale
I am glad you have secured Mr Holt; for in addition to my other disabilities I have such a bad cold that unless it improves I shall not be worth much on Sunday.
I shall, however, be very glad to help you by entertaining Mr Holt on Sunday unless you have made other arrangements. I will write to him anyhow.
Yours very truly
A.P. Dawson
For this correspondence to have survived intact for so long is amazing but when I heard of its history all became much clearer. Apparently for many years it was preserved in the loft of the Rectory until the 1970s when it was discovered wedged under the old water tank. Renovation work was being carried out at the time, by Rowley Smith, Builders & Plumbers of Kibworth and when the central heating was installed and pipes were fitted this piece of local historical paperwork came to light.
I am grateful to John Billing of Kibworth for presenting me with this interesting piece of ecclesiastical memorabilia that hails from that bygone elegant and colourful age of the Edwardians.
Glyn Hatfield