Former Occupants of the Rectory, Smeeton Westerby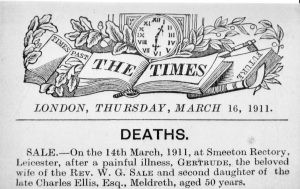 I recently found a vintage photograph of the Old Rectory in Mill Lane, Smeeton Westerby, together with an obituary issued by 'The Times' newspaper in London dated Thursday 16 March 1911. Which relates to a member of the Sale family who occupied the property for 25 years.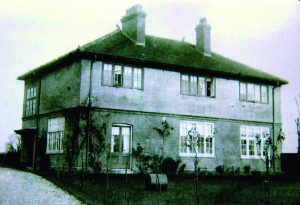 According to the 1901 census, the Reverend William George Sale, Rector of Christ Church in Smeeton Westerby, and his wife Gertrude (nee Ellis) were living at the rectory along with a servant, Edith Loomes, aged 25, who was born in Gumley. However, the previous census from 1891 confirmed that Gertrude was, at that time, unmarried and living with her brother Harry (a curate of Ecclestone Church, Ecclestone, Prescott near St. Helens, Lancs). She was a governess along with her sister, Celia. In 1891, The Rev. William George Sale was living close by on Park Road, Eccleston, and was Curate of Ravenhead, St. Helens. He was born in 1855 in Portland Place, London, and died in 1918, aged 63, in the Market Harborough district.
Gertrude Ellis married the Rev. Sale in the September quarter of 1891 in the district of West Derby, Liverpool. She was born in 1861 in Meldreth, Cambridgeshire, and died on March 14, 1911, in Smeeton Westerby, shortly before the coronation of King George V and Queen Mary. Her father was Charles Ellis of Oak Villa, Meldreth, Cambridgeshire, who was born in the British territory of St. Helena and died in 1897. He was a former landowner of 317 acres, employing 12 men and five boys. Her mother was Maria Louisa Osler, who was born in 1825 in Fulbourn, Cambridgeshire. Charles and Maria had seven children, and Gertrude was their fourth child and second daughter.
Sad loss of a child
Rev. Sale and his wife had one child, a son named George Cecil Ellis Sale. He was born in 1892 but sadly died in 1905 at the tender age of 13. He was buried in the family plot (No. 231), which can be located by the road wall of Christ Church churchyard, Smeeton. The plot is in the first row, five plots to the right after entering the gate. Gertrude and the Rev. Sale were later interred there, and a rather ornate memorial was erected on the plot with the inscription:
In loving memory of George Cecil Ellis Sale only child of The Rector and Gertrude his wife. Given July 16th 1892. Taken innocents day 1905. His sun is gone down while it is yet day, and of the above Gertrude, wife of the Rev. W.G. Sale M.A. and daughter of Charles Ellis Esq. of Meldreth who died March 14th 1911 aged 50 years. I have loved thee with an everlasting love. Jeremiah XXXI – 3. Also of the Rev. W.G. Sale M.A. for 25 years (1893-1918) Rector of his Parish who dies November 29th 1918 aged 63 years.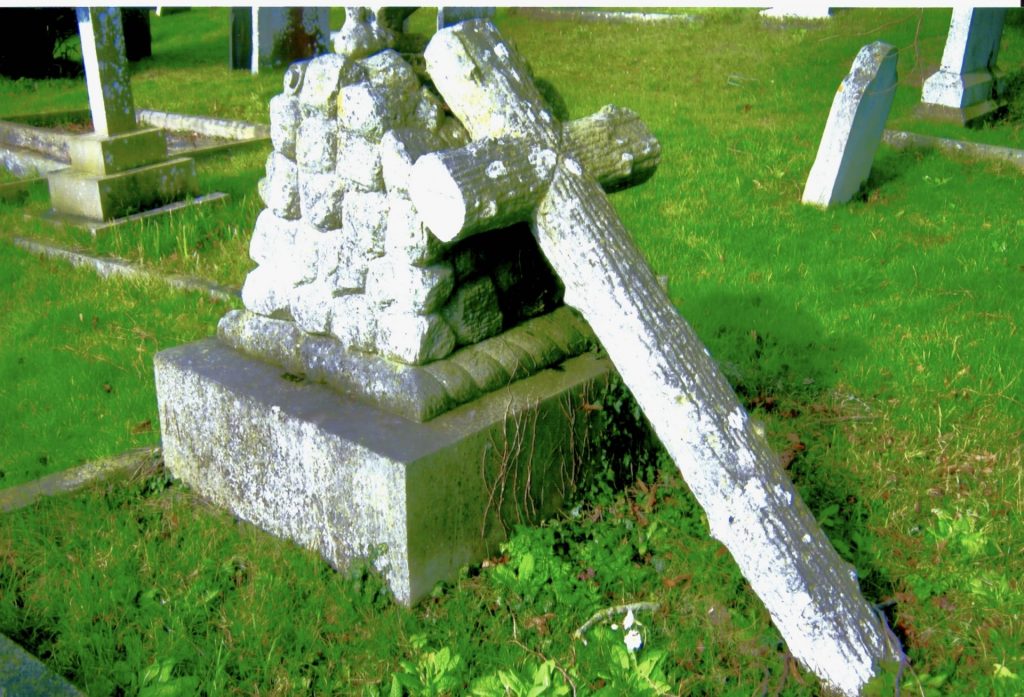 The grave is described as a fallen cross design on three large plinths, a kerb and lead letters. 
Census records
The census returns for 1911, following the death of Gertrude Sale, recording the occupants of Smeeton Rectory as: 
Rev. Sale Widower
Annie Sutton Servant aged 25 (born Tipton, Staffs)
Incidentally, the Rev. Sale was the main organiser to help raise funds for the purchase of a new organ. This was installed in Christ Church, Smeeton, in 1907 at a cost of £320. The service of dedication of the organ was held on Thursday 11 April, 1907.
It never ceases to amaze me how one old photograph can rekindle memories of a bygone age. At the same time it can evoke feelings of admiration for a prominent family that occupied a place in the lives of the inhabitants of Smeeton Westerby during the early part of the last century.
Glyn Hatfield