Boost for Kibworth Pets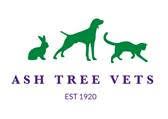 State-of-the-art for Ash Tree Vets
Ash Tree Vets started 2023 in style with the opening of a new £1million state-of-the-art premises in Wistow Road, Kibworth Harcourt after relocating from Smeeton Road, Kibworth.
The move has enabled Ash Tree Vets to expand its services and install the latest hi-tech equipment to enable the veterinary team to provide the best possible care for pets and a wider range of services to clients.
The new premises boasts four consulting rooms, two operating theatres, a physiotherapy room, laboratory, dental suite and separate dog and cat wards to reduce the anxiety of feline patients.
Dedicated Bereavement Room
It also has a dedicated bereavement room for compassionate end-of-life care where clients can spend time with their pet in a calm, quiet environment at a difficult time. The room is set back from the reception area with its own exit.
Ash Tree Vets, which also has branches in Market Harborough and Desborough, relocated to meet the high demand for pet care within the community.
Clients who will still see the same familiar faces will no longer have to travel to the Market Harborough branch for certain procedures.
New Vets join the new team
The move marks a new chapter for Ash Tree Vets which has also bolstered its team by welcoming two new vets, Chris Sherwood and Tine Headline.
Stella Coulson, clinical director at Ash Tree Vets, said: "The team is super excited as this has been our dream for a long time. Our Smeeton Road branch was too small, and we weren't able to offer all the procedures we do at the Harborough branch. "Now, we will be able to mirror all those services, and also be able to offer much better parking. I am also delighted that Chris and Tine have joined us. They have a wealth of experience. It means we will now have the capacity to see more pets and clients will be able to get appointments sooner. There's a lot of demand for pet care as Kibworth and the surrounding area is forever expanding with new-builds and developments."
9 Priory Business Park
The new address is: 9 Priory Business Park, Wistow Road, Kibworth Harcourt, Leicester, LE8 0RX
Please note that there is clear signage at the site pointing out the designated parking at the front entrance of the building.
There is no change to the practice telephone number which will remain as (0116) 279 3054 – don't hesitate to call with any queries.
More information at www.ashtreevets.co.uk