Singers Back in the Barn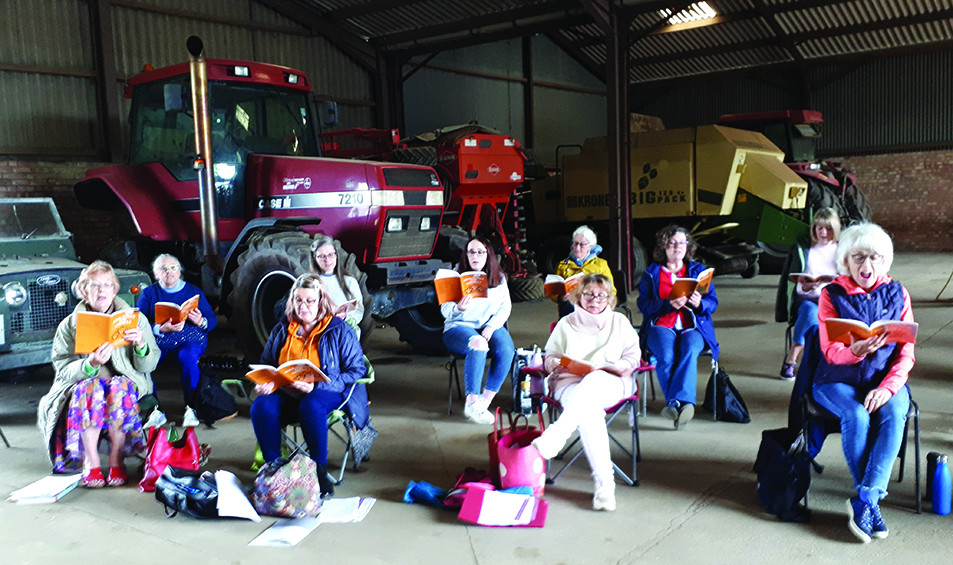 In July the Harborough Singers return to the barn where they rehearsed during the later stages of Covid. Happily, this time they will not be evading a killer virus, but expressing their gratitude to the barn's owners, the Johnson family, of Rectory Farm at Great Easton.
"We are so grateful to the Johnsons for allowing us to use their barn," choir Chairman Tim Blades said. "It meant we could meet up again as soon as the Covid regulations allowed, and I can't begin to express what that meant to us. We were overjoyed to be able to sing together again, in person, instead of just meeting virtually on Zoom. After being home alone for so long, being in the airy barn with the tractors , and the cockerel joining in, was a total joy."
The Singers' special 'Thank You' event will take the form of a Summer Barn Concert to be held in and around the tractor barn at Rectory Farm on Saturday 1July. It will start at 3pm. Afternoon tea and cake will be served and is included in the ticket price, and a prosecco bar will also be available throughout.
Tickets are £15, available from harboroughsingers.com, Great Easton Post Office and Stores, Eyebrook Wild Bird Feeds at Rectory Farm, Great Easton, or by email from julia@unna.co.uk or phone Julia on 07761 729558.
All profits from the event will be split between two charities chosen by the Johnson family, St. Andrew's Church, Great Easton and Breast Cancer Now.
Gill Guest