To smash or not to smash? That is the question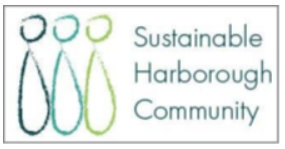 Four Extinction Rebellion members who came to Harborough at the end of January outside Barclay's bank ,"gathered outside the High Street branch, placing stickers on the front windows suggesting people smash them if there is a climate emergency". From Harborough FM News online
It follows the incident in London in which seven women, including the great-grand-daughter of Suffragette Emmeline Pankhurst, smashed the windows of the Barclay's headquarters. The action was to increase public awareness of the bank's role in the fossil fuel industry.'
On Sustainable Harborough Community's Facebook page, no-one agreed with the ER people's message. "I completely understand why people get desperate for answers / solutions. Apart from my personal convictions about keeping the law, I think it means that some people will find it easier to dismiss climate change activists as troublemakers and they therefore won't take what they say seriously. Also, with our police force and law courts so hard pressed it doesn't help to add to their workload". Wise words.
A positive way that aims to help people, is the campaign just starting in Harborough and District 'United for Warm Homes' bringing local groups together to make three demands of Government over the next months. Firstly, people who are struggling to heat their homes need help and quickly.
Secondly, adequate insulation saves money and keeps people warm in winter and cool in summer. Thirdly, we need to leave fossil fuels in the ground and develop more renewable energy. See what is planned on the Sustainable Harborough Community website.
Finally, good news in the Green Christian Prayer guide scientists working in techno-agriculture have found that by covering crops with canopies of translucent solar panels, they can separate the light which generates energy from the light that leads to photosynthesis in plants. This not only means a farmer could generate solar energy and crops at the same time, but better crops, and more energy (article link here). Good news indeed!
Julie Fagan, volunteer, Sustainable Harborough Community and Eco Church.