Foxton Community Choir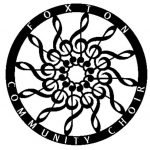 We're a mixed Community Choir based in Foxton. Whether you've been in a choir before or you're completely new to the idea you'd be most welcome. So why not give us a try?
Foxton Community Choir sings varied programmes throughout the year, from popular chart hits, songs from the shows, to folk and choral. We're definitely not a formal group. You just have to be enthusiastic, have a desire to sing and enjoy making new friends. We also have a brilliant new musical director whose aim is to create fabulous music, develop our musical skills. and importantly have fun!
Rehearsals are held on a Thursday evenings at 7.15pm in Foxton Church. There are no auditions and you don't have to read music.
To Find Out More
Come along to a Taster Session or
Piano Accompanist
Please note we are currently seeking a piano accompanist for our rehearsals and performances. Please get in touch if you are interested.
Gill Wollerton