The New Normal: Cancer Support Group
Our November meeting was a huge success, thanks to a wonderful member of the community, Jon Jones, who took time out from his busy life to help our group make some wooden Christmas decorations (as shown in photo).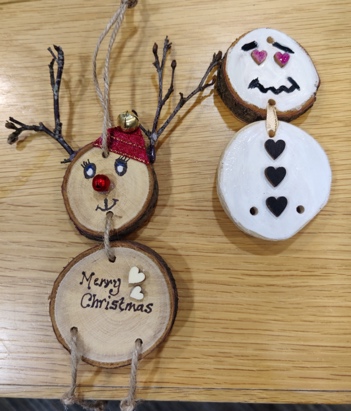 It was lovely to hear the chatter among the group and see everyone's artistic flair!
Our next meeting, will be at the Kibworth Cricket club, Wednesday 21 December, 7.30pm. We are going to be joined by Jola, who is going to show off the skills of her favourite kitchen accessory – Thermomix.
She is going to be 'cooking up' some festive goodies for us to enjoy. If you would like to come and join the festive fun, just drop us a message so that we can make sure we are able to cater for everyone who attends. Please inform us also if you have any dietary requirements.
Thank you for the ongoing support,
The New Normal Cancer support committee
thenewnormal.leicester@gmail.com