Beach Baby – Photograph Found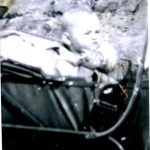 On Saturday 15th October 2022 I was walking along Kibworth High Street, opposite the Co-op when I spotted an old photograph floating in a puddle of water.
On closer inspection I discovered it was a snapshot of a baby in a pram on a beach. Taken, I believe, in the 1950s. I suspect it had fallen from someone's wallet or purse.
My daughter placed the image on Facebook but to date has had no response.
If anyone recognises this seaside scene, please get in touch with me on Tel:01162793676 and I will be happy to reunite the photograph with its rightful owner.
Glyn Hatfield
---
Online note: Apologies for the quality of the image above which is from a scanned pdf of the original photograph.
---