Support Your Community and Enjoy a Spectacular Evening on Saturday 5 November
The Kibworth & Fleckney Rotary Club are staging another Bonfire and Firework Spectacular. Those who have been before witnessed an amazing firework display, put on by the very professional Hi-5 Fireworks company.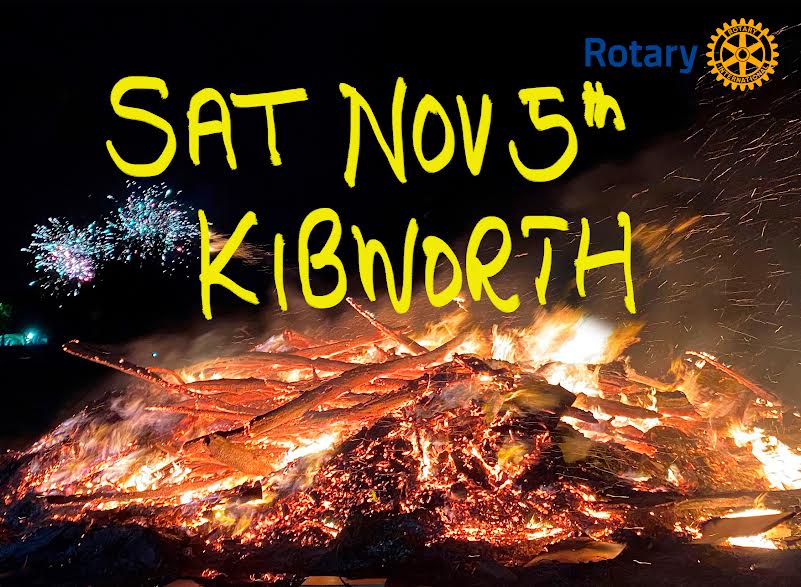 The evening starts with the lighting of the bonfire at 6pm with the fireworks at 6.45pm. Plenty of hot food and drinks will be available, so bring family and friends.
Despite rising costs the entry prices have been kept the same for the last three events.
Pre-event discounted tickets are:
Adult £8
Child (over 5 but under 16) £4
Children under 5 are free
At the gate, on the night (cash please):
Adults £10
Child (over 5 but under 16) £5
Children under 5 are free
Pre-event tickets can be purchased (once again, cash please) from the Coach and Horses, the Windmill Farm Park and the Post Office (cash dispensed) in Kibworth and the Library in Fleckney. We are very grateful to these outlets for their help.
The profits from the event will allow the Rotary Club to support many local projects including the Scouts & Guides, The Well and many others.
Post Covid it is great to see our youngsters outside in the fresh air, taking part in activities organised by the Scouting movement. The numbers of Scouts and Guides locally is on the increase which is a very healthy sign. However, these organisations need help with funding, so come and enjoy the fireworks and help raise some funds.
Kibworth Scouts will be on site again on 5 November so come and show them your support.
Graham Thompson