Jubilee Picnic at Foxton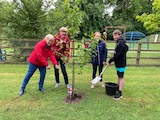 Despite the inclement weather, a joyful community celebration of the Queen's Platinum Jubilee was held on Sunday 5 June in the Robert Monk Hall and grounds.
The event was organised by the Foxton Society and attended by villagers, their neighbours, and families. A bouncy castle and large inflatable slide were in use by children all afternoon! Children took part in races including egg and spoon, three-legged and sack races cheered on by family and friends.
A 'make your own crown' competition and an agility event for our canine friends were also enthusiastically supported. Everyone came with a picnic lunch and free ice creams were relished despite the chilly weather.
The Black Horse pub provided other refreshments not least tea and coffee to keep us warm. During the day three silver birch trees were planted to provide a lasting commemoration of the event.
Photo of the tree planting (from left to right) are Eleanor Fenn, Gill Wolleston, Bea Farnsworth and Edward Degruchy.