Fun tennis sessions at the Platinum Jubilee Celebrations
As part of the Platinum Jubilee celebrations taking place on Smeeton Road Recreation Ground on Sunday 5 June, Kibworth Tennis Club ran free fun tennis sessions for children and adults. It was a great opportunity for children and adults to try tennis, some for the first time. Over 45 children and adults joined in the sessions and all had a good time!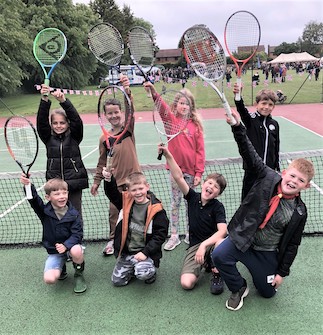 Summer Holiday Tennis Fun for Kids Aged 3-18!
There will be a lot of opportunities for kids to play tennis at Kibworth Tennis Club during the Summer Holidays! There will be sessions for preschool children, beginners from the ages of four to 13 and team events for children aged from 5 to 18 who can play matches. Hopefully lots of children will be inspired after watching Wimbledon, which will be starting at the end of June.
Information about the Summer Holiday sessions can be found on the club website