Hunny Hive Children meet Kibworth Fire Crew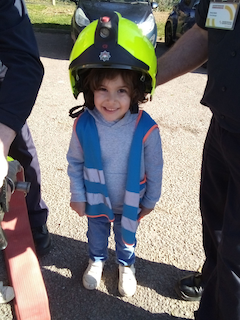 The children of The Hunny Hive Day Nursery have been learning about people who help us. The Kibworth Fire Crew kindly came to the setting to visit and the children were delighted to be able to learn about the equipment and sit in the fire engine!
The children loved the experience and were so excited to go home to their parents and talk about fire safety.
Many thanks to the Fire Crew
The Hunny Nurseries want to say a big thank you to the Kibworth Fire Crew as they were so attentive to the children and we are grateful of the opportunity to teach the children about their community and wider world.
Laura Whittall, Senior Nursery Manager
The Hunny Bee Day Nursery (0116 2796513) The Hunny Hive Kibworth Day Nursery (0116 2793950)