Harborough Walking Festival 26-29 May 2022
Sometimes, as we rush about our daily lives, we stop noticing the beautiful countryside that surrounds us. Maybe we have some favourite, well-worn walks but lack the time and confidence to explore a new area and find out about its paths and villages and the stories they contain.
The area to the north of Market Harborough certainly has plenty to offer. Rolling countryside, ancient pastures and farmland, streams and woodland spinneys. As well as some of the most beautiful villages in Leicestershire, and maybe even the country.
Details of the Walking Festival
In order to showcase the extraordinary area that we are fortunate to live in, two experienced local guides, James Carpenter and George Keeping, with support from Harborough District Council, have organised a Walking Festival which offers seven guided walks over the period Thursday 26 to Sunday 29 May.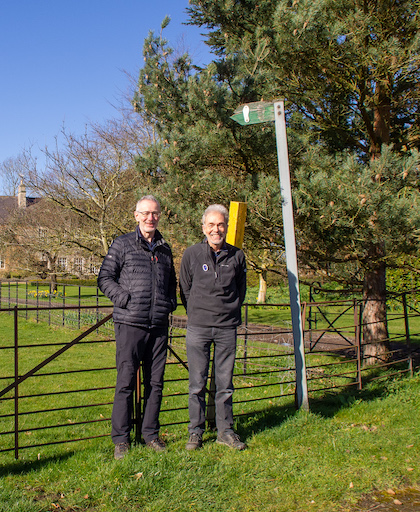 James is a trained Blue Badge Tourist Guide and a member of the Institute of Tourist Guides. He has lived locally all his life with a passion for history. With a background in farming, he has the wealth of knowledge to make any walk a thoroughly delightful experience. Assisting James is George, an outdoor writer and footpaths' researcher, who has written and contributed to guidebooks across the Midlands. With a background in archaeology, he is as fascinated with what goes on beneath the soil as he is with the landscapes of Harborough District.
The walks are between 2 and 7 miles long, and cost from £5 per person. They include favourites such as Hallaton and the Langtons, as well as some maybe less familiar areas around Tugby and Claybrooke Parva. Also included in the Festival are a stile-free walk, and a wheelchair-friendly route. Full details are on the Festival website.
Canals, battles and buried treasure are all there to be explored – not to mention local characters and ancient customs. Places are limited and must be booked in advance. For more information, and to book, please visit the Harborough District Walking Festival website or send an email to: james.carpenter@harboroughwalks.org
George Keeping