Support Local Businesses this Spring
Following a successful Christmas Fayre in November 2021, Mish Mash Markets is excited to be back with our next shopping event. A Spring Market taking place at the Market Harborough Congregational Church on Saturday 19 March. The event is open 10am to 3pm and entry is free to all (though guide dogs only please). It would be great to see you there!
Mish Mash Markets was co-founded last year by me and my work colleague, Elaine. Our aim was to do more for small businesses. As individuals, we try to support small independents when purchasing for our homes or gifts for others. We saw an opportunity to do something bigger. So we set up our event company to provide an outlet for those businesses.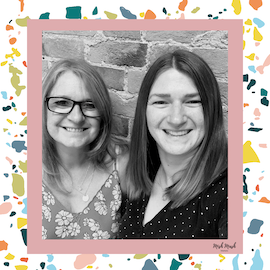 Our aim is to showcase small, local businesses, whether their products are handmade or sourced from elsewhere. For some of them, it is their primary business; for others it's a hobby they want to share with the world. We believe they all deserve a chance to exhibit. It's also a great way for the local communities to support them.
With the easing of Covid-19 restrictions, we're really excited to be offering a pop-up cafe at our event above. We'll be serving a selection of hot and soft drinks, as well as selling Seriously Good Brownies, made by Jacqueline Matthews of Harborough Magna.
Confirmed stall-holders
Confirmed stall holders for our Spring Market include Kibworth locals, Tina Cooper of Sadie and Sid Arts and Allyson Blake of AllyB Glass. Both women hand- make their beautiful products at home. They have been playing around with new designs to showcase for the first time at this event. Other stall holders include Dragonfly & Co, The Wild Bee and Me, Cakes by Minel, Felicitous Home and Striped Wave, to name a few. We really believe there's going to be something for everyone. To find out more, visit our webpage at https://linktr.ee/mishmashmarkets
Fiona Waterfield, co-founder of Mish Mash Markets